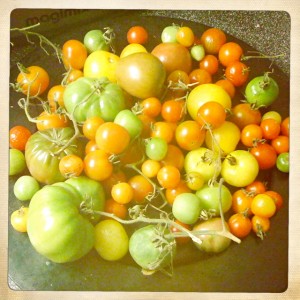 This is the 26th year I've made a best of year compilation (with cover photo – Season's End tomatoes – and track veto from my partner, Sue), on cassette and, since the turn of the century, on CD. Since 2010 I've put the tunes on the net (copyright holders, I'll remove on request, these are a promotional tool only up for a short time etc etc). I have friends who do the same, though none have lasted the course (plaudits to Jon & Veronica for the longest continuous run). Those friends who still get a cd might want to look away until theirs arrive. Some compile two cds, but I've always restricted myself to one, thinking enforced brevity the best way to ensure quality.
1. Young Fathers – Get Up If one single thing justifies the existence of the Mercury Music Prize, it's this year's win for the Young Fathers, who I'd never heard of. Their album is ebullient and original, taking hip-hop somewhere new. Earlier today, I got the spot to review the band when they make their Nottingham debut on May 26th, only to have to pull out when I realised that I'm teaching that evening. But I'll probably buy a ticket (only a tenner) and catch as much of their set as I can anyway. This is the catchiest tune on the album, a great way to start the CD.
Young Fathers – Get Up (Radio Edit)
2. Mary J Blige – Therapy For reasons best known to Mary, she debuted new songs on Later months before her London Sessions album came out. I ended up watching her astonishing performance of this one four times. The raw lyric – hardly matters if it's autobiographical or about, say, Amy Winehouse – make it a brave song to kick off an album with. And it tells such a striking, involving story that I was shocked, when it finally did come out, last month, to find that it's only three minutes twenty seconds long. A soul classic.
3. Spoon – Do You? I came slightly late to Spoon, in 2005, but have followed them closely since, even managed to see them twice, despite their aversion to touring the UK. They Want My Soul is another really good Spoon album. Is it as good as Ga Ga Ga or Gimme Fiction? Time will tell, but this track is yet another catchy corker, with that pleasing Lennonesque rasp in Britt Daniels' voice.
4. Ronika – 1001 Nights Skip to the post below for more on Ronika, who we saw supporting the Human League this week, making a strong debut at Nottingham's Royal Concert Hall. I've been a fan since Mike Atkinson introduced me to her at the Bodega Social two or three years ago, and took a bunch of people to her album launch there this summer. Named after much missed Nottingham music store, Selectadisc, which was one of my top haunts from 1976 until its closure a few years ago, the album has an embarrassment of riches to choose from (it also features my old mucker Charles Washington on one track, as did the Bodega gig). Search Siren was my initial choice but, after Tuesday's gig, Sue insisted on this disco thumper, making it the last addition to this year's CD. No argument here.
5. Mark Ronson feat Bruno Mars – Uptown This number entered the charts at number one yesterday, released by public demand I gather, and is so ubiquitous that I don't need to post it, do I? Oh, alright then. Shades of Prince in another classy disco-thumper. Did I tell you I saw Prince from close-up in Leeds earlier this year?
6. Hello Saferide – I Forgot About Songs New album The Fox, The Hunter and Hello Saferide has no release date in the UK and is only available as a pricey import or download, but it's well worth seeking out, nonetheless (thanks to Scott, for pointing out its existence). That this group haven't appeared on the best of year CD is down to my constantly playing catch-up with them. I was intrigued by The Quiz and knocked out by its glorious double A side I Was Definitely Made for These Times so immediately started playing catch-up (including Annika Norlin's work in Swedish, as Säkert!). You could, if you want, define some of their work as twee. Sure, there's an element of adolescent innocence to these songs, but they're also quirky, observational and, most of all, life affirming. This song more or less sums up why I make an annual best of year cd.
Hello Saferide – I Forgot About Songs
7. Leonard Cohen – Samson In New Orleans There's some debate about the quality of Leonard Cohen's Popular Problems. One music magazine had it in the top three albums of the year. In others, it barely scrapes the top forty. Old Ideas, his wonderful comeback, was my favourite album of a couple of years ago, easily Cohen's best since Recent Songs or even I'm Your Man. Two years is a short gap for LC, and while this album is really good, it's not great (at least, not by his standards). This track, however, is quintessential Cohen. I must confess that, to my surprise, I've listened to his son Adam's new album at least as much as Leonard's. But it's an odd listen. Adam has explicitly embraced his dad's legacy and there are times when he sounds so much like the Leonard of Songs From A Room, 45 years ago, that it's scary. My favourite song on We Go Home, 'Fall Apart' addresses this whole area and is a fascinating listen. Originally it appeared on our CD directly before his dad, but Sue vetoed its inclusion (along with one by John Fullbright; 'too many miserable songs'). Here it is, anyway.
Leonard Cohen – Samson in New Orleans
8. Sleaford Mods - Middle Men I've had a couple of drinks at a Christmas do, so really oughtn't to be writing for publication, but the condition feels entirely appropriate for Sleaford Mods, the band of the year (a year in which I've seen them three times, all great, but stonkingly superb at Spanky Van Dyke's in September). They're from Nottingham, near enough, and I first wrote about them over two years ago. Jason Williamson writes about contemporary society with a bile and passion that has found its moment. I love the way this starts as one industrial sound, immediately shifts into another and throws in an entirely pointless 'New Labour!' at the beginning and end to confuse yet sharpen its portrait of dead end drinkers in Sherwood, where I happen to live. And the Wilko's mention. Class. I'd say more, but I really need to get some food down me.
9. Drive-By Truckers – The Part Of Him After the brutal yet apt transition from Cohen To Williamson, this is more a shift in genre than of content. Paterson Hood's story is about 'an absolute piece of shit, to tell the truth, but he never told the truth to me'. DBTs hardly toured this album in the UK. Shame. Their last Nottingham gig, six years ago was terrific, and I've since travelled to Birmingham to see them – one of the great live acts. Is this about a real person? Hood's written about politicians before, notably George Wallace.
Drive-By Truckers – The Part Of Him
10. Beck – Blackbird Chain There hasn't been as much love for Morning Phase as Beck got for his first acoustic album Sea Change, yet it seems just as good to me, all the more enjoyable for not being such a radical, spot-the-influence departure. There were loads of dreamy tracks I could have chosen, but this intricate piece of chamber pop is what I went for. What is a blackbird chain? The lyrics sort of slip by, I'll need to listen again… Nope, didn't help.
11. Gruff Rhys – American Interior Spelt 'Gruff', pronounced 'Griff', which I only worked out this year. Must also confess that, though I went to see him talk about his film/album/book at Green Man this year, I dozed off for the entire event, apart from his monosyllabic answers to the first two questions (he warmed up, according to my brother and sister). I haven't paid the album as much attention as it doubtless deserves, but will make up for that before I review his Rescue Room show in February. This title track is gorgeous.
Gruff Rhys – American Interior