Hot Off The Press – Lowdham, Mezzanine and more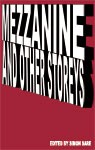 Time to talk about three new books. My students on the MA in Creative Writing at NTU have just published their new anthology 3D/07 which they launch at Nottingham Waterstones tonight (7-9PM, admission by free ticket, brief readings at 7.30). It's a really handsome looking book (I don't have a cover image to hand, but it looks very classy) and features outstanding work by current students together with contributions from visiting professor David Almond ('Finding Jesus', an exclusive extract from an adult novel in progress), veteran broadcaster Ray Gosling ('Words…' a memoir), prize winning MA graduate Nicola Monaghan, new work from course tutors Georgina Lock, Graham Joyce and yours truly (a new short story which follows the one that appeared in last year's 'In The Frame' anthology) and a new poem from John Lucas. The MA students are doing lots of other launch events, including one at the Lowdham Book Festival where we're also sponsoring an event with Daljit Nagra and Gautam Malkani
And that's not all, I have a poem (the first I've published since 1993!) in Five Leaves' fine 70th birthday celebration of my old friend, John Lucas, 'Speaking English' which is formally published on June 23rd (come to the party). And, since a poem from me is hardly likely to tempt you to spend a tenner, I should add that the book also features over a hundred other poets, including Sue Dymoke, Peter Porter, Tom Paulin, Gregory Woods, Mahendra Solanki, Catherine Byron, Deryn Rees-Jones, Michael Murphy, George Szirtes, Anne Stevenson, Matthew Sweeney and the editor, Andy Croft. It's full of great poems and I'm very proud to be in it.
Finally, also out this month is an anthology (see the cover image above) edited by Simon Sare, 'Mezzanine and Other Storeys', the first collection of short fiction from Ardra Press. Authors from four continents have donated stories to produce a volume full of humour, history and heartbreak. Some of the contributors are new voices; others have won awards in the fields of fiction, poetry, film, journalism and music. Authors include Georgina Lock, Graham Joyce, singer/songwriter Martin Stephenson and me, with a quirky adult short story, 'From Ashville To Nashville' which is one of my favourites and which has not been published elsewhere.
All profits from the cover price of £8.99 (with free postage and packing) will be split between Chester-le-Street Community Hospital, and the neurological unit at Newcastle upon Tyne General Hospital, both in the north of England. Best to buy it direct from Ardra Press post free. If you want to get a post free copy of the MA anthology, send a cheque for £6.50 made out to Launderette Publications c/o Zoe Moorhouse, George Eliot Building, School of Arts, Communication and Culture, Nottingham Trent University, Clifton Lane, Nottingham NG11 8NS. If you're abroad and want to use paypal or suchlike, email me and we'll sort something out.