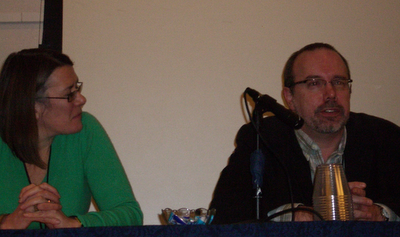 After a breakfast bagel at Pax Wholefoods, down 7th Avenue, I headed for the program directors plenary, which was compulsory, but also standing room only and not aimed at UK Creative Writing MA Programme leaders, so instead I hurried over to downstairs at the Sheraton, where I was in time for most of the first speaker of a fascinating panel about the problems of being a transatlantic writer. Then I went to the 'Queering New York' panel, primarily because I wanted to hear Ed White, only he wasn't there, but it was pretty entertaining all the same. The midday panel on my area, Young Adult Fiction, was outstanding. Mary Rockcastle chaired a discussion about the line between Young Adult, Crossover and Adult fiction with Caryoln Coman, Sharon Darrow, Julie Shumacher and Marsha Qualey. I got to meet Julie the next day and Marsha came to our Friday panel, lovely people with lots of interesting stuff to say. The three of us for the next day's panel sat together and compared notes afterwards, interested by how much more freedom US writers seemed to have but also by how many of the issues facing us were pretty much the same. (I'd go into this stuff more but I'm planning to write a paper about it so want to mull it over and keep my powder dry).
The main events of my day were social, so I'll slide over the smug, shallow event with Joyce Carol Oates, a great writer who wasn't given much chance to do herself justice and stick to lunch and dinner. I had lunch (he didn't, having just come from a Writer's Guild board with free food) with one of my favourite crime writers, Lawrence Block. Our ostensible purpose was to discuss the Ms. of his long story 'Speaking Of Lust' which Five Leaves publish in the Crime Express series later this year. But mainly we talked about other crime writers, American TV, especially 'The Wire' and, well, stuff… it was an honour, and I only wish I'd picked up this book set in the Greenwich Village where he now lives and first published a staggering 47 years ago, a day earlier so I could have got it signed. His Crime Express is a real treat. Watch out for it.
In the evening, I forsook the chance to see John Irving's keynote address (and Richard Thompson's 1,000 Years Of Popular Music show, which was on down the road) to have dinner with old friend, poet Paul Violi, who I hadn't seen since '99. We slipped straight into our ongoing conversation about American politics, poetry and – since I now teach in a university part time, as he does – we had new topics of conversation, writing students and academic management. I can recommend the restaurant, Le Monde on the Upper West Side, and their house Viognier. Afterwards, I meant to go to the opening night AWP dance party, but a surfeit of alcohol combined with the slowness with which text messages travel to the UK and back again meant that I ended up back in my room watching the Democratic CNN debate before crashing, only to wake with a headache that combine jetlag, hangover and migraine to powerful effect, just in time for our Friday panel.
Which went fine. Less people than at the previous day's, but then we were in the Sheraton basement. And if we'd been in the Hilton, we'd have been interrupted by a fire alert half an hour in, just as the Virginia Tech tribute got under way. There should be a photo above showing my valiant colleagues, Georgina Lock (chairing), Julia Green and Philip Gross, who all did a great job. We had some good questions too. And, while I went to a poetry reading afterwards, I was really ready to unwind and, rather than stay for Sue Miller's reading in the evening (pity, because I love her books), instead we headed out in the pouring rain to see the new David Mamet comedy on Broadway. Of which, more tomorrow, because now I have to go and teach.