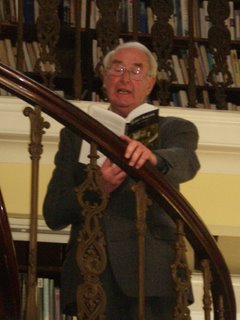 As we were driving back from our holiday in Scotland, a text arrived to tell us that our dear friend Stanley Middleton had died. He would have been 90 on Saturday. He was suffering from cancer and had been ready to go for several months. I visited him for the last time just before we left. He was in a nursing home, dying with the same dignity that he lived his life. There's a fine obituary from his literary executor and former pupil Philip Davis here. Our mutual friend and publisher Ross Bradshaw has written a short memoir here.
The photo on the left was taken at what I think was his last public appearance, at the launch for the new edition of his favourite of his novels 'Harris's Requiem' that I edited for Trent Editions. Stan is standing on the spiral staircase at Bromley House Library. It was the second of 45 novels. I hope that Hutchinson will publish his final novel, 'A Cautious Approach' soon. Many of us will miss him a great deal. Condolences to Margaret, his wife of more than fifty years ('I'd be a man made of smoke if she died before me' he once told me), daughters Penny and Sarah, and five grandchildren.
You can listen to or download my tribute to Stan on BBC Radio Nottingham's John Holmes show here.