Broken Social Scene at Nottingham Rescue Rooms June 29th, 2010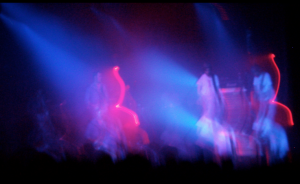 I don't often review gigs, but it seems appropriate in this week of not writing a Glasto diary that I'm doing two. This is a longer, slightly more personalised version of a piece that will appear in tomorrow's Nottingham Evening Post. I took the arty photo above myself. If it's any good, that's a complete accident.
Broken Social Scene are a collective from Toronto whose members have previously included Lesley Feist and Emily Haines. They play near grungy, avant garde rock with the occasional hint of prog. They're at their best on their self-titled 2005 album and 2003's classic You Forgot It In People, both heavily represented tonight. Their last visit to the Rescue Rooms, just over four years ago, was an outstanding two hours of intense, adventurous music. They've taken a short break since then, with solid, more conventional side project solo albums from Brendan Canning and front man Kevin Drew.
Despite a sweltering night and competition from the World Cup they draw a near full house, kicking off with a spirited World Sick, lead track from the new Forgiveness Rock Record. They promise to entertain us for an hour. 130 minutes later, having broken the curfew, they finally leave the stage. More is sometimes less, though, and the set might have ended better with Superconnected at the 90 minute mark. After that, things became a little shambolic, with two failed attempts to play Fucked Up Kid from Kevin's fine solo album, before they pulled it all back together with a great Lover's Spit and a magnificent It's All Gonna Break complete with its superb Emerson, Lake and Palmeresque ending.
Earlier, Kevin Drew has frequently performed from a spot in the crowd and turned in a fine version of my second favourite BSS number Cause = Time (from YFIP, he told the band to play it 'mellow' but thankfully, it wasn't too mellow). Sadly, he refused requests for their best number Anthems For A Seventeen Year Old Girl because 'it's not on the setlist and we'd have to bring Lisa back on': a bit of an insult to the fans and to new singer Lisa Lobsinger, who isn't given a lot to do. But this is very much a boys' band. Kevin says he yearns to be back in Toronto, getting kettled in the G20 demonstrations.
The band staged their own riot. I counted nine people, not including Lisa, crowding the stage on several songs. At their best, which is about a third of the time, Broken Social Scene make a raucous, joyful noise, and they're always worth seeing. I didn't enjoy this show as much as last time, as the above probably implies, but, to be fair, this time I'd a) rushed from the football (and rushed straight back to watch the rest of the game after writing the above – what an absorbing match), b) was stood at the back (though at least this was cooler than my usual spot five feet from the stage) and c) only had one pint to drink (for journalistic objectivity and driving reasons).
I know I said I'd only upload one song of the week, but there have already been six this week, so why stop now? This was one of the gig highlights.