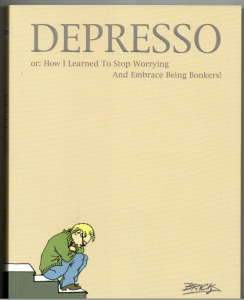 One in four people in the UK suffer seriously from depression at some point in their lives. I had a serious bout when I was twenty, suicide note written, sufficient sleeping pills blagged off a friend. Never thought of going to a doctor, couldn't really talk about it to friends, factors which were, of course, symptoms of the problem. But I kept putting it off, f0r fear of the effect it would have on my family and whoever found me. Then I went home from uni for Christmas and started to feel a bit more positive. Two weeks after I came back I met someone and fell in love. Nothing anywhere near as bad since. Lucky boy. Not many of my closest friends have, to my knowledge, been seriously affected by depression, until this century. In particular, several blokes I know entered their fifties and started to fall apart. One of them was the cartoonist, John Clark, (aka Brick) who I have known for thirty years and collaborated with several times. And he's written a book about his experiences.
The title of his graphic novel, 'Depresso', makes the subject matter clear. However, it's anything but a depressing read. Brick has been the UK's leading cartoonist on development and environmental issues for decades, as well as a cycling journalist. His style and subject matter are eclectic, wide ranging and ambitious. 'Depresso' is a lightly fictionalised account of the mental breakdown he suffered, over several years. It is partly, he thinks at first, the result of dealing with bleak subjects but hiding from his own demons. The story shows how the NHS deals and all too often fails (comically, depressingly) to deal with depression. The book also stands as a vivid autobiography, told with so much visual flair that the only apt comparison I can think of is David B's 'Epileptic', a similarly ambitious (and wonderful) graphic novel (can I have my copy back now, please, John?. Brick's account is harrowing at times, but never loses its wry sense of humour. He throws in numerous cinematic, comic and rock'n'roll references (together with a superb section set in China) while tackling both the history and science of depression. Depresso is in a different league to any other work I've seen on this subject. I have to say that I devoured it more quickly than I wanted to, forcing myself to stop every other chapter so as to have some left. I defy anyone who is interested in graphic novels not to devour this book, which will reward rereading many times.
It's weird, 0f course, reading such a personal book by somebody you know so well. While I'd seen a lot of the work in progress, reading the whole work does make me feel that I know its author better than I did before (this is an illusion that all memoirists strive for, of course) while wondering which bits are lightly fictionalised, beyond just the names. A lot is left out, inevitably and deliberately to simplify and shape this into a story. I hope that it finds the wide audience it deserves, for, while it will be of interest to mental health professionals and people suffering from depression, it will help readers to understand depression. It doesn't oversimplify or sugarcoat anything. The narrator, Tom Freeman, is hardly an everyman, more an everycurmudgeon, and I'm not best placed to say what readers will make of him. But I'll bet they won't forget him.
Here, have a song to listen to while you order the book from Amazon.