Indian Summer in Sheffield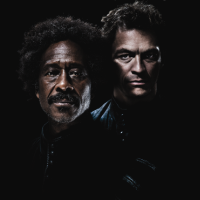 We booked our 'Othello' tickets the hour they went on sale: two for ourselves and one each as birthday presents for my sister and oldest friend. My youngest brother and his partner, who also live in Sheffield, decided to join us. We're all huge fans of 'The Wire' and go to a lot of theatre at The Crucible, one of the UK's best theatres, where productions cost half what they do in the West End. It's the first week of term, so we decided to go for the matinee, rather than evening show, so as to leave more weekend free for preparation. On a good day, it's a fifty minute drive but we allowed an hour and a half for traffic.
We'd been on the M1 five minutes when the traffic slowed down and came to a virtual stop. When we finally passed the upturned car and the one it had hit, the reason that the motorway north had been closed for fifty minutes, all we could feel was grateful that it wasn't us. We phoned my sister, saying we were bound to be late, and she arranged a duplicate ticket. Still, amazingly, we got to the theatre only fifteen minutes late for the matinee and asked when they could let us in to our sixth row, aisle seats. Answer: they couldn't. There were only two places in the first half where latecomers could be admitted without disturbing the audience and the second one was at the twelve minute mark. But we could watch a small monitor and go into the second half ie only see the final hour and a quarter of a three hour play. We sat, decompressed, tried to hear what was happening on stage (impossible), then explored possibilities. Would it be possible to come later in the run? It was sold out but maybe they could find us something. We quickly realised that we didn't have a free night in the remaining fortnight. What about tonight? It seemed unlikely, because this was a Saturday and the hottest ticket in the country. But…
Full marks to the staff at The Crucible then, for accommodating us and somehow finding us equally good seats for the evening show (judging by the people around us, I think they were seats reserved for friends of the cast). We'd have felt wretched if we'd missed this tremendous production. First, though, we had an unexpected free, gloriously warm afternoon in my hometown, Sheffield, probably the first Saturday afternoon I'd spent there since I was seventeen. Great Moroccan market (was this linked with the play?), good Waterstones where Sue bought the new Carol Ann Duffy. Visited Sheffield Cathedral for the first time. The art gallery in the library inexplicably closes early but we liked the Millenium gallery and I made a mental note to return for the Ian Breakwell exhibition that opens later this week. Oh, and we joined our party for the interval of the play – which they all loved – then went for a drink and a meal afterwards before returning to the play in the evening.
And what a play! 'Othello' is problematic for several reasons – best summed up as an unconvincing plot – but the decision to have Dominic West play Iago in a Yorkshire accent (not too far from his superb Fred West in Appropriate Adult) made superb sense of his sociopathic actions. Clarke Peters' Othello was outstanding and made his behaviour almost believable, too. The rest of the cast, performing at full pelt, were terrific, not a dud amongst them, with special praise for Alexandra Gilbreath's Emilia. The overheated second half, where you expect someone to shout out 'a handkerchief!' in much the same tone as Wilde has a character say 'a handbag!' and things constantly threaten to slip into farce, was superbly brought off. I would have edited Shakespeare to take out some of his repeated 'Heaven Forfend!'s but any faults were in the original play, not this outstanding production. It received the best reception for a play I've ever heard in Sheffield and was the best production I've seen there, including Branagh and Fiennes in the Sam West years'.
If you can beg, steal or borrow a ticket, 'Othello' runs until October 15th. Go.