Student: a Fresher's week special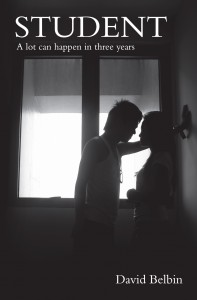 My new novel about university life, Student, which I give the background to below, is published on Monday, September 24th, the start of Fresher's Week at most unis. As an opening week offer, you can get the book on Kindle for 99p, or from the publisher at £4.99, post-free, for a signed copy. That's less than anywhere else for a signed copy. Obviously, we're doing this more for attention than sales, and reviews left anywhere will be much appreciated.
I started writing seriously 28 years ago, after training to be a teacher. Almost the first thing I wrote was to become my debut, The Foggiest, in 1990. I saw it as a trial run at the time, and concentrated on adult fiction of the kind that used to be called 'literary'. By the late 80's, I knew what I was doing. My short stories started to be accepted by magazines. Then I sold The Foggiest and, for a few years, ran a career combining literary short fiction and YA genre fiction, until the YA became so successful that the short fiction tailed off.
The stories that make up Student, half of them written during that period, were inspired by my university days, a decade earlier. They weren't YA fiction, as such: too honest about drugs, sex, suicide and other aspects of late adolescence that are still kept out of YA fiction. Largely, perhaps,  because authors self censor, but also because university life was seen as beyond our remit. I was aiming at Ambit and The London Magazine, not the students I taught, though the pieces were, perhaps, most relevant to Fifth and Sixth formers anticipating independent life at university.
The voice I wrote those stories in is that of a young woman called Allison. She's from West Kirby, the Wirral town where I lived from five to sixteen, and studies English at the University of Nottingham, as I did. So there are autobiographical elements. But not that many. In the first batch of stories, she stays on to take an MA, which I never did. The penultimate one, Different Ways Of Getting Drunk, was reprinted in Best Short Stories Of The Year: 1993 (yep, that's how long ago it was). And then I stopped writing them.
Another decade slipped by, during which I became a full time writer, then returned to university, part time, running a Creative Writing MA. The MA students publish an annual anthology with staff contributions. I dug out the first Allison story, which had been accepted, but never used by The London Magazine and rewrote it for them. With an extra decade of experience, I was able to cut half of it without losing anything important. Waking Early, West Kirby was reprinted in a YA anthology, even tho' I hadn't written it for teens.
University lecturers can apply for a semester's sabbatical every four years, a very civilised arrangement. When I began mine, the contract hadn't come through for the book I wanted to write (typically, it was agreed the week the sabbatical finished). With YA fiction, I always followed the principle that I only wrote stuff I'd been paid for in advance, so I had to find something else to do. And I got round to rereading the Allison stories.
What I found was that, in the ten or so stories I'd written, I had the basis of a novel. Furthermore, having returned to a university environment, I was reminded of my own experience as a student, and inspired to write about it again. Tentatively, at first, I began to write some new Allison stories, creating new characters and storylines, being very careful not to tie Allison's nine terms at uni to one particular era. It quickly became apparent that, for this to become a novel, there needed to be at least one story per term. Also, painful as I found it, the three post-graduate stories (two of them published) would have to go. The natural ending came earlier.
Tired of the distractions of the internet, I wrote the new stories in longhand. I even rewrote the old stories in longhand, then transferred them to my computer – a time consuming process that I doubt I'll ever repeat, but it was all to the benefit of the novel. Then I tried to decide what to do with the book. My YA agent said it was too racey and honest for the YA market. I showed it to a friend who ran a YA book prize: she loved it but concurred, saying that it struck her as sixth form fiction, a category that, unfortunately, doesn't exist.
I showed it to Five Leaves, who had already anthologised the opening story and had previously published both my adult and YA work. They thought it was the best thing I had written and were keen to do it. However, then I got a new agent, who wanted to pitch it bigger. Everybody he tried rated it, but nobody knew how to publish it. Was it YA or adult? Not cross-over. For a book to be a cross-over, is has to have somewhere to cross from. Student is what it is, a novel aimed at everyone who's ever been to, or is about to go to university. Five Leaves sent YA novelist Melvin Burgess, who knows a lot about these things, an advance copy. He wrote, most kindly:
We have almost no university literature in the UK. David Belbin is ideally placed to help start it off, and this book is a valuable addition to the YA range. Anyone who has been or is at university will relate to the characters. The full range of experiences from that first year after leaving home are all here – isolation, friendship, sex, loyalty, heartbreak, happiness, despair. Some succeed, some fail; of them struggle. The book is full of honesty and insight, and you never know until the very end who is going to make it and who is going to fall by the wayside.
Nicola Monaghan (appropriately, one of my ex-students) was kind enough to provide a second blurb, describing the book as 'tense, honest and pacy'. We haven't categorised Student as Young Adult fiction, but I hope that, with a cover featuring Melvin, who's known for controversial novels aimed at teenagers, and Nicola, whose The Killing Jar reached an awful lot of teens, even though it was an adult literary novel, we've indicated who the story is particularly aimed at.
Now it's over to you, the people interested enough in my work to read this blog. Given its nature and small press stature, Student is likely to struggle to get bookshop and review space. It's officially published at the start of Fresher's Week, on September 24th, but you can buy an early print copy here and, until the start of term (October 1) it's available from today at a bargain 99p on Kindle.
That's right: 99p. Virtually free, in the hope of generating reviews and chart placings (5L and I never use sock puppets, so please, please review the book on Amazon – those reviews really count). If you're a regular reviewer or book blogger, I'll be more than happy to send you a kindle copy for free (and, now that I'm a kindle owner, I can explain how to load it on to your kindle if you don't know). I can even arrange for review copies of the print edition to be sent out. I will do any and all interviews. Just use the contact button above. I don't normally pimp my work so shamelessly, but I'm anxious for this book to find its audience and we need all the help we can get. Thanks for reading.
To read the Nottingham Post magazine's interview with me, by Erik Petersen, including the story behind 'Student"s cover, go here. To read Elaine Aldred's long interview with me for bookblog Strange Alliances, go here.
The Lemonheads – Alison's Starting To Happen (Acoustic Session Version)