The Animals with Steve Cropper, Rock City basement, January 2013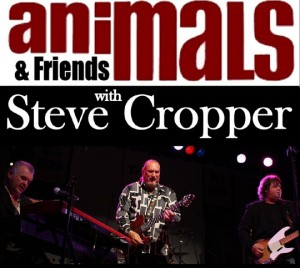 This review first appeared in Thursday's Nottingham Post
"WE'RE really smoking tonight," says Animals singer and bassist Pete Barton. And it's true. An amp has caught fire, halfway through a set of classics from the sixties.
Barton replaces Eric Burdon, who sued to get the name from original drummer John Steel. And lost.
Keyboard player Mickey Gallagher, best known as one of the Blockheads, replaced Alan Price at short notice in 1965 and returned in 2003. Danny Handley on guitar and vocals completes the new team.
It's My Life, Dimples and others roar by, with covers like I Believe To My Soul. They sound like a terrific tribute band with a fantastic keyboard player, but this is only the warm-up.
After a break, they return with Boom Boom and bring on guitar and song-writing legend, Steve Cropper.
Gallagher comes even more into his own, taking the Booker T. Jones keyboard part on Time Is Tight and In The Midnight Hour.
71-year-old Cropper, with long beard, pony-tail and dry wit, regales us with stories of co-writing numbers like 634-5789 and Knock On Wood with Eddie Floyd.
Cropper may not have the best voice in the business, but he makes up for this with enthusiasm and his consummate, exquisite, utterly distinctive guitar playing.
The only complaint can be that he doesn't play enough solos. When Barton takes over the singing for I Put A Spell On You, Cropper's solo is a thing of wonder. He also leads the crowd in something I've never heard at a gig before, a mass audience whistle-along to the closing bars of Cropper's finest co-composition, Dock Of The Bay.
Cropper leaves us with, inevitably, an excellent Green Onions.
The Animals storm through House Of The Rising Sun. Cropper returns for Soul Man and the two hours are over, bar hasty encore, Gimme Some Lovin'. Splendid.
There are no official recordings of the Animals with Steve, but here are three versions of 'Dock Of The Bay', each featuring him.
Otis Redding – (Sitting On The) Dock Of The Bay
Booker T & The MGs – (Sittin' On) The Dock Of The Bay
Neil Young – Sitting On The Dock Of The Bay
.