Band out of time: the return of Gaffa – redux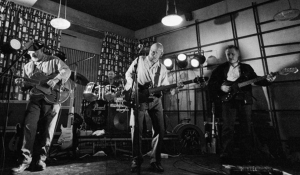 This is the full version of my Wayne Evans interview, most of which appeared in last Friday's Post.
Last time I interviewed Wayne Evans, Gaffa's songwriter, singer and bass player, was for my student newspaper in 1978. That was at The Imperial in James St, where Gaffa had a residency that pulled in hundreds of punters from every part of Nottingham, every Tuesday night. They deserved to be huge. We thought they would be.
Gaffa have been going for 40 years, if you ignore a 30 year hiatus between 1981 and 2011, when they reformed for a storming gig at Nottingham Contemporary, where they return on March 1st. The next gig marks the launch of the first CD appearance of their only LP and a fine, four song EP featuring their first new material since 1980.
The teenage Wayne met drummer Mick Barrett at the 360 club in Bulwell. Their friendship gave him confidence to write. 'We didn't want to be a covers band. Mick and I were very firm about that from the start….' They went through a number of guitarists before recent graduate John Maslen was persuaded to join them: 'We saw him peering out at us from under a straw cowboy hat at The Embankment at a Radio Nottingham gig.' Clive "Myph" Smith came soon after and 'it really started to gel'.
Gaffa got going during the mid-70's pub-rock era. At one point they were lined up to support Roxy Music on a tour. 'Then Roxy had a bit hit and they got Blackfoot Sue instead'. They played quite a few London gigs but not enough to build a following there. 'London, in those days, it just seemed so far away. Especially in the vans we had.'
I ask Wayne about the importance of Nottingham to their songs.
'What I was trying to do was sing in my own voice, which these days – Arctic Monkeys, Sleaford Mods – is quite commonplace. Then, everybody was going down the highway… it was a good few years before Punk, which gave us a great impetus. We played loads of gigs the week after The Jam and the week before The Boomtown Rats.
The Imperial residency began around 75 and built to a crescendo between 77-79. 'We had a very fast turnover of songs, as we're finding now in the continuation of Gaffa. We did a lot of work in five years, writing wise. Several new songs most weeks.'
Their anthem 'Parish' still sums up his feelings about Nottingham. 'This city is where my friends are, this city is where I want to stay.'
You were the only person – still are – singing in a Nottingham accent, about Nottingham.
 People really thought that I was singing to them, and for them, and responded to that.
The album's called 'Neither Use Nor Ornament'. It's a very Nottingham phrase.
People say you should never use negative things but I thought it was a good title.
It does speak to the fact that you weren't willing to make big compromises for success.
 Nobody ever asked us to make any compromises! It must have been really evident. We wanted to be presented as a complete entity, as The Smiths were a few years later.
The album contains many of your best songs, but the LP didn't capture your live sound.
'It sounded too clean. People were used to hearing a buzzy sound through our sellotaped amps, but the remaster sounds great: there's a lot more space in it.'
It certainly does. The album has warmth and presence, too, making it a more enjoyable and representative listen. Listening to it, I'm reminded of how wide the band's canvas is and how much humour the songs have.
Yet, despite the album, the TV and radio, the tours, the NME record of the week, Gaffa failed to lift off.
'We were out there playing, but we had no management. Nobody was doing the follow-up business we should have been doing. We went to the end of the diving board, but pools weren't being made. Nowadays there's a great infrastructure for young bands in Nottingham, but we were doing it all ourselves.'
Wayne's keen to acknowledge that the band did get a lot of support in Nottingham. Malcolm Heyhoe of local music zine, Liquorice, put them in touch with John Barr, who funded the recording of the album. 'He gave us two grand. That's the same as The Who got! We went it at in a very professional way and we did get international plays. Later, we went to Sheffield and tried to give him some of the proceeds, but he just laughed, told us to keep it. We used the money to press the last single.'
That was 'Man With A Motive', the recording of which was financed by Stiff founder, Jake Riviera (formerly of Stiff Records, who released a single by Nottingham's Plummet Airlines). 'But by then we were pretty tired. We'd all been doing it full time. Mick wanted to get a proper job and be able to buy a new shirt… we carried on and kind of mutated.' They felt the big time could still be round the corner. But their moment had passed.
Even so, 'everybody in the band has continued playing. I think that's why we're able to revisit that material so well. John had his own band, Nth Degree, Myph's been playing with a rockabilly band and with me, in various bands. I've carried on writing. We have started writing again, as Gaffa.'
New EP, XIXIIXIII, opens with the autobiographical 'Rocking Science'. 'I'm the man who stood next to the man who held the coats of the also rans,' Wayne sings, only for the narrator to 'wind up playing stand-up bass in a party band.' That's the Cuban influenced Mas E Mas, whose drummer Simon Bowman and percussionist Richard Kensington complete the current Gaffa line-up, Mick Barrett living too far away (he's a chef in a Herefordshire gastro pub).
The new band sound as good as ever, with outstanding musicianship and punchy songs. The remastered album takes me back to a sold out Imperial in 1979, when they played the album in full. Halfway through, Wayne mimed turning over the record. No need to do that with a compact disc. Get down to Contemporary's cafe bar on Saturday night (free, on stage around 9pm) and find out what the fuss was about.
One final question. If the 60 year old Wayne could talk to the 25 year old who made this album, what would he say?
 Don't take yourself so seriously, but keep going. Have a bit more self confidence. And get a manager!