Hall and Oates, Royal Concert Hall, Nottingham, July 6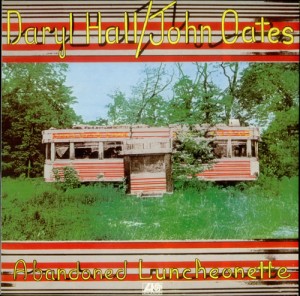 The following review adds a few extra ruminations to the one in today's Nottingham Post.
'It's been a very long time but it's good to be back,' says Daryl Hall. He and John Oates last played the RCH back in 1990, at the end of a decade in which they'd were the quintessential AOR band in the US.
But which band is back? There have been at least five Hall and Oates. A blue-eyed soul band whose second album featured a soul classic, She's Gone (though it only become a US hit when rereleased in 1976). I bought Abandoned Luncheonette from a cut-out bin at Burnley Boots in 1974, for 69p, and was hooked.
They flirted with rock in the Todd Rundgren produced War Babies, which is great but more a Rundgren album than a Hall and Oates' one. It did nothing, but then they went gold with their fourth, the eponymous 'silver' album, Hall and Oates. Superb follow-up, Bigger Than Both Of Us, gave them their first US number one, Rich Girl, which was memorably covered by Nina Simone. They then went back to rock for a couple of unsuccessful albums, Beauty On A Backstreet and the more mixed Along The Red Ledge before finding the blatantly commercial formula that made them into superstars.
In the 1980's they released five consecutive platinum albums. 70's fans weren't as keen on this disco/pop direction, but you can't argue with success like that. Later, they also had a soul revue. Eleven years have passed since their last album of new material. A 2009 box set showcased their strengths.
The duo haven't troubled the UK top 20 since 1982. Daryl Hall devotes much of his time to monthly webcast Live From Daryl's House. This might explain why they're selling out concert halls rather than arenas. Our gain. Anticipation for this opening night of a short tour (leading up to the Latitude festival) is high, the concert hall packed.
The band come on and tear into Maneater, the duo's biggest UK hit. It's followed by their strongest 80's cut, the storming Out of Touch. This shows that Hall, 67, can hit all the notes as well as ever. The less distinguished Say It Isn't So turns out to be the newest song of the evening. It came out in 1983.
They tease us about losing the setlist and play a number only rabid fans will know, Uncanny, a flop single from a ragbag collection. Then they draw out the heavy guns. Back Together Again, from their best album Bigger Than Both Of Us, hasn't been played live since the 70's. It still sounds sensational.
Abandoned Luncheonette's Las Vegas Turnaround is another sweet, deep cut that shows John Oates, 65, in fine vocal form. The evening really takes light. She's Gone is as good as it ever was, with great saxophone from long time accompanist Charlie DeChant, star of their six piece band.
Their first big hit, Sara Smile, is about 'the way things should be as opposed to the way they are,' Daryl tells us from behind his shades and black leather bike jacket. Then Daryl's at his keyboard for signature ballad Do What You Want, Be What You Are. This segues into I Can't Do That (No Can Do). Their second biggest UK hit gets the crowd to their feet. However, half of its nine minutes is a saxophone solo, spoiling the momentum of the show closer.
Never mind. Encores of Rich Girl, You Make My Dreams, Kiss On My List and Private Eyes bring the 95 minutes to a more than satisfying close. A class act. Just a pity the brittle sound, lacking in range, didn't do them full justice. We were behind the soundboard, where it wasn't great but I've heard worse at the RCH, which can be hard to get right. However, according to an email sent to the Post, the sound was much worse in some areas, with many people walking out of the stalls and at least fifty complaints from the top tier. If you were there and didn't stay for the encores, this is the best song you missed.