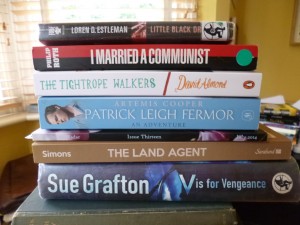 As ever at this time of year, a bit of a reading blog. Quiz for you: look at the pile above and guess which one I didn't finish and which one I dumped in Croatia, or, to be more precise, left in the small select library in our apartment on the island of Hvar. I left the first book I read, a chunky ex-library copy of Sue Grafton's last but one novel, at our hotel in Split (fantastic city, visit highly recommended). Having enjoyed its predecessor so much, earlier this year, I was really looking forward to this one so – you guessed it – I was a bit disappointed. It was up to her usual standard and thoroughly readable, but not as intricately plotted or interesting as U is for Undertow. W is just out. You'd think it would be called W is for Wanted, wouldn't you. But it isn't. Think I'll hold off on that one for a while.
The novel I was most looking forward to, The Land Agent, is the final novel in J. David Simon's Glasgow To Galilee series, and did not disappoint. The cover compares Simon to Sebastian Faulks, but he's much better than that. Think Bernard Malamud meets Hilary Mantel. You can read these novels in any order, though it might be an idea to read the wonderful The Liberation of Celia Kahn before this one if you're going to. Otherwise, you may find Celia's letters the one weak spot of the novel. Not that it matters much. This is succinct, thoroughly absorbing, satisfying storytelling, which casts a far stronger light on the origins of the Israeli-Palestinian conflict than the much acclaimed TV series  The Honourable Woman, which was enjoyable tosh. A timely, terrific novel by a writer at the very top of his game. It's published next month, and if it isn't shortlisted for next year's Booker Prize then it will be a gross injustice.
Next was David Almond's The Tightrope Walkers, a somewhat autobiographical novel that fits into the new adult category (i.e. it follows the narrator from childhood to twenty or so) but has been published as an adult paperback original, and this may prevent it from reaching some readers, which would be a shame. It's full of powerful, bold, at times almost overwhelming writing. This coming of age novel that features many themes that readers will recognise from David's YA work, like Clay and the recent The True Tale of the Monster Billy Dean. Terrific stuff. David has a new YA novel, A Song For Ella Grey out next month, this time with Hachette, who I'm pleased to see are publishing it in hardback first.
Nicholson Baker's Travelling Sprinkler, which I read on my Kindle, was a disappointing follow up to The Anthologist. Less stuff about poetry in this one, more about writing songs (seriously, 55 year old guy tries writing a few songs – who cares?). The narrator is pretty much like the guy who appears in Baker's essays, and those early sort-of novels. It was sort of OK. The other book I read electronically was Michael Faber's Under The Skin. I thought it was a short novel but it turned out to be full length (eBooks can confuse you that way) and not to have very much to do with the film of the same name, apart from the main premise. Plus – put it this way – the central character could not have been more miscast than by using Scarlet Johanssen. This is a chilling read that just about sustains itself, with a feel closer to allegory than sci-fi. By half way through, you might want to think about becoming a vegetarian. 7/10
The book I left behind was a prize winning biography of Patrick Leigh Fermor, which left me cold. Fermor was obviously a charmer to know and there's a breathless boy's own adventure quality to his life, but I quit after 40 pages, a quick skip further forward convincing me that matters wouldn't improve. Perhaps one of the apartment's future guests will appreciate it.
The book I didn't read was Loren D. Estleman's Little Black Dress, even though it's handily pocket sized, so will doubtless accompany me on another holiday. My last couple of days were occupied by Roth's I Married A Communist, the only major novel by one of my favourite writers that I hadn't read. At least, hadn't read most of. The New Yorker, as it is prone to do, published a lengthy extract just before the novel came out 18 years ago and I read it as a complete short story. I wasn't too impressed, then, and needed to forget it, so didn't get the novel, even though it's narrated by Nathan Zuckerman and comes between two of Roth's best novels, American Pastoral and The Human Stain. Recently, though, a couple of people have recommended it to me and I figured the whole novel had to be worth a try. Plus by now I'd forgotten nearly everything about it.
There's some terrific writing in the novel, and I don't regret reading it, but most of the story is told at third hand and, structurally, it's a bit of a mess. The novel deals with an important period in the USA's social history, the McCarthy era, and holds lots of interest. However, a writer less brilliant than Roth might have been told to go back and do another draft. There's a particularly annoying revelation towards the end. The central character, Ira, never really comes to life. It's as though Roth knows he's unconvincing and tells his story at a distance so that we don't notice. But we do.
And that, apart from a  bunch of short stories, and several lovely issues of the New Yorker, is that. I got back on Sunday. Yesterday, I'd planned to ring my colleague Graham Joyce to discuss the Fiction class I'd just agreed to take over from him until he was able to recover from a recent operation. I also wanted to congratulate him on his brilliant Radio Four programme Talking About Cancer, which discussed the language people use around cancer. In it, he explains why the disease should never be described as a battle or a struggle (it's still available as a podcast here). I'd rung him just after it was on, but he'd just gone into hospital for a serious operation. Graham had been diagnosed with lymphoma 18 months ago but been able to return to teaching briefly this summer and was optimistic about a new treatment he could begin, just as soon as he got his white blood cell count up. But before I could call, I saw – on Twitter, news always breaks on Twitter these days – that he had died. Yesterday afternoon. It's very hard to take in. He was such an irrepressible presence, even while facing death. Just read his final blog posts. Or his beautiful, mesmerising recent novel, The Silent Land, which is also about death. As Stephen King wrote yesterday: 'he was a truly great writer. Too soon. Far too soon.'
The university asked me to write something about him for press enquiries. Here it is:
Graham taught at NTU for 18 years. He was a much loved, inspirational teacher, several of whose students went on to publish novels. NTU staff and students felt lucky to work with such a world-class, original writer. While with us, in addition to his many fantasy writing awards, Graham gained a PhD by publication and was appointed a Reader in Creative Writing. He loved his university teaching, even returning to give his fortnightly class to the Fiction group on the Creative Writing MA during a brief period of remission this last summer term. Social network sites have been flooded with messages from former students saying what a great deal they learned from him and how much they were inspired by him. We will not see his like again.
My condolences to his wife, Sue, and their two children, for this terrible loss.