The Pop Group, Nottingham Bodega Social 21/10/14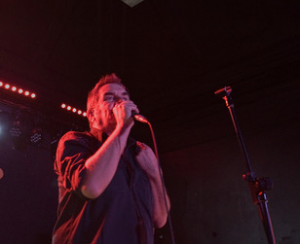 A slightly extended version of my review from the Nottingham Post, with a snippet of Martyn Boston's photo.
When The Pop Group split up 33 years ago, they had unfinished business. The band were at the avant-garde end of post-punk, performing a chunky, visceral sound which displays elements of free jazz. In 2014, they've said in interviews, their articulate howl of protest is needed more than ever. Tonight's gig is in association with Campaign Against Arms Trade.
It's a brave band that follows Sleaford Mods, the UK's coolest band, who are as intense and entertaining as ever. They do an eight song, 'best of' set including TISWAS, Tied Up In Nottz and, of course, Jolly Fucker.
The Pop Group's Nottingham debut brings out an impressive array of well dressed men of a certain age (45-60) who make up for lack of hair with expensive spectacles (yes, I'm one of them). The five piece are greeted as returning heroes by a crowd that includes several who have travelled from their home town, Bristol, for this short tour's second night.
The set is based around recent rarities set 'Cabinet of Curiosities' and the recently remastered 'We Are Time', whose opening three numbers begins the show. The original four members are joined by a younger, unintroduced rhythm guitarist. The sound is full and fresh. Mark Stewart cuts a genial figure on stage, not much given to introductions. Once he gets going, however, he becomes a man possessed. There are hints of Arthur (Fire) Brown's satanic demeanour, especially when he screams, as he frequently does. There's also a disgust in these songs that complements the Mods, but it's laced with a celebration of old school, anarchistic values. This band sound like they're casting out demons.
'Western values mean nothing to me,' Mark sings in She Is Beyond Good and Evil, whose angular funk takes things to another level. A mesmeric hour concludes in a flash, with We Are Time. The encore, inevitably, is their keynote classic, We Are All Prostitutes (as referenced in one of my Nottingham-set short stories, Paying For It, by the way). Immense.