The Specials & Sleaford Mods: Rock City debut 31/10/14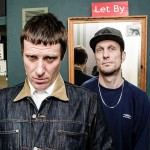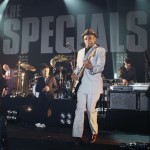 Last week, The Pop Group, this week, The Specials. Sleaford Mods might be the hottest band in Britain (too cool to even enter the Mercury Music Prize), but it doesn't stop them playing support to their heroes.
This is their first time on the main stage at Rock City and they fit. Jason Williamson's, nonchalant 'up yours' attitude is a direct descendent of Terry Hall's sour persona. Andrew Fearn's bearded, beatific presence lightens the mood. The Specials' Too Much, Too Young could be a template for the Mods' aggressive descriptions of modern life's scummier side. Jason's intense performance in which, for once, he actually introduces the songs, wins over the early crowd with numbers liked Tied Up In Nottz, Tiswas (as played on 6Music at breakfast) and closer The Wage Don't Fit.
Two and a bit years ago, the emerging Mods supported another great post-punk band, Scritti Politti, at the Rescue Rooms. In January, they headline there. On this evidence, they could soon headline Rock City, too.
Tonight is the second night of The Specials' tour and their Rock City debut. Is it really six years since they announced their reunion? Joyous delirium greeted their 2009 reunion show in Sheffield. They played the main stage at Glastonbury two months later. Since then, Nottingham has had an arena show and Neville Staple has left due to ill health. That aside, this line-up has been together longer than the original band's four year run. No new album has appeared. Hardly surprising, since songwriter Jerry Dammers wanted nothing to do with the reunion. Sometimes, tonight, Terry Hall looks like he wishes he wasn't here either.
It has to be said that the first half of this show is a little off. Tunes like Double Barrel and the Clash's Janey Jones get us in the mood, but dubby opener Ghost Town (too early!) never takes off, its 'people getting angry' lost in mike problems. After Friday Night and Saturday Morning, Hall lets rip at someone in the crowd because, it seems, he hates halloween. Pearl's Cafe, with its 'all a load of bollocks' refrain, seems to sum up the mood. (It later transpires that there were, indeed, sound problems, as explained in Horace Panter's facebook blog, which is also interesting on what it's like to play Rock City.)
Rat Race begins and quickly goes wrong. Funnily enough, when the song restarts, the night turns into a great Specials gig ('I think we got away with it', Horace wrote). Terry leaves the stage for Lynval Golding to give us Why? When Hall returns, he makes a crack about Halloween Club before Nite Klub. At one point, as he turns his back on us, I even spot a smile on his face.
Dawning of a New Era, Do The Dog, Monkey Man, Concrete Jungle, they're all there. Gangsters is the show's highlight and Too Much Too Young the classic closer. Guns of Navarone leads into Enjoy Yourself for the encore. Terry makes a crack about the 10pm curfew, tell us what's on the telly, then finishes the 90 minute set with the inevitable You're Wondering Now ('what to do now you know it's the end'). By the end, it was a bit special.
The Specials return for a second Rock City show (without Sleaford Mods this time) later this month, but it's long since sold out.