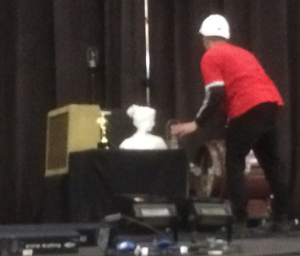 'Mr Dylan is not able to take up your invitation', said the email from Bob's manager on Thursday evening. I confess to feeling less disappointment than relief. Yesterday was Bob Dylan's first visit to a UNESCO City of Literature since he became a Nobel laureate. NUCOL's director, Sandeep Mahal, knew what a huge Dylan fan I was, and what a coup it would be to have his Bobness visit our headquarters, so, a month ago, she wrote to  his manager to offer Bob a private tour of Bromley House Library. His manager said it was unlikely, but possible, so she'd written to remind him of the invitation that morning.
I collect signed first editions of books by my favourite authors. Not signed albums, which have never interested me. But it would be great to have something from my large Dylan collection signed by Bob (only, which of his two books – Tarantula or Chronicles to take? The latter is better, the former rarer.).
More pressingly, what do you say when you meet your heroes? It's OK to have a conversation with them, I've found, in the context of a promotional interview, as I have with Kevin Coyne, Richard Thompson, Aimee Mann and a few others over the years. Or socially, if – say – introduced by a mutual friend. But I've never been tempted by meet and greet type events for fans. I haven't chased an autograph since meeting Leonard Cohen when I was seventeen. The safest thing would be to talk about the historic building, answer his questions about Bromley House, ask him to sign a book or two, and wish him well for that night's gig. But that would feel like a wasted opportunity. Was it safe to ask Bob what he thought of Eddie Marsan playing him in that silly play on Sky last year? Or wonder aloud whether he's considered reviving It's Alright Ma, I'm Only Bleeding in the age of Donald Trump? I'm pretty good at making conversation with people I've not met before but Dylan is Dylan, and there's nobody who would daunt me more. There was a pretty good chance of my saying something that would embarrass me for the rest of my life. Happily, as I warned Sandy from the outset, there was virtually no chance that Mr Dylan would take up the invitation, and so it transpired.
Which leaves me at the gig where, due to luck as much as superb planning, I found myself in the middle of the third row, the best seats I've ever had at a Dylan show. This is my 40th year of going to see Dylan. The first time, in '78, I queued overnight outside Leicester De Montfort Hall to get tickets for the first night at Earls Court. The last time, in 2015, was only the second time in a concert hall, Manchester Apollo. It was bittersweet, as it was only a few days after the death of my oldest and closest friend, Mike Russell, who I had seen so many Dylan gigs with over the years. This time, I was with my friend Terry, veteran of more than fifty Dylan gigs since the Isle of Wight Festival, and playwright Michael Eaton, who had only seen Dylan once in recent years, from a great distance, at his first Nottingham appearance, a notoriously dull concert, lifted only by a rare rendition of 'Blind Willie McTell'.
This was my fourth time seeing Bob really close up, which is always a thrill. The sound was tremendous, the band in great form and the setlist a terrific blend of new songs, old songs, and standards. We got a jaunty 'To Ramona', which I've never heard him play live before. Yet again, he changed the words of 'Tangled Up In Blue', my favourite song of the night (doubless someone will transcribe his improvised ruminations along the days of 'today might as well be the future'). Terry and Michael loved it. He played for an hour and fifty minutes, concluding with a fantastic 'Ballad of a Thin Man'. The standards were nicely peppered through the set (Sean at the Post has the setlist with his review). My favourite was the first, an entirely appropriate 'Why Try and Change Me Now?'
The setlist has stayed the same for a while, by the way, but there was one unusual thing about the show, which I've never seen at a Dylan gig before. Bob kept smiling. He was really enjoying himself. And so were we.
I obeyed the instruction not to take photos during the set but did snatch a slightly blurred one at the end, just before the stagehand removed two props that were illuminated throughout the performance, even when the stage was black. One was the Oscar that Bob won for the song 'Things Have Changed', with which he'd opened the show. The other was the small statuette that came with his Nobel Prize for Literature. A few seconds after I took the shot above, it was put into a bright green plastic bag, which was then put into a large hatbox and taken off stage, ready for the next show, and the next. My twelfth Dylan show, and, if it turns out to be the last, a brilliant one to finish on.
Mind you, I'll be pissed off if, when I go to Bromley House next week, the librarian says to me: 'guess who showed up at our door on Saturday morning?'