Lambchop – Rescue Rooms, Nottingham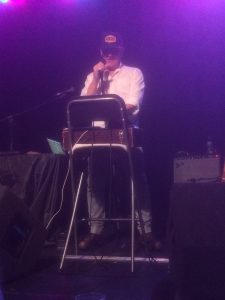 An extended version of my review for the Nottingham Post.
Lambchop are a melancholy, mesmerising band. The Nashville group rarely tour, even in tonight's stripped down trio version. I'm sure I wasn't the only person there who'd waited over twenty years to see them. Indeed, they're my main reason for buying a ticket for Green Man this year (not that I needed much encouragement), before this tour was announced. Frontman Kurt Wagner sets up the laptop which will supply synths and drums. 'I'll be checking my email throughout the performance.' Before opening with Writer, he tells the crowd, 'It's just us now, we can't rely on governments'.
The set mixes songs from delicious recent album – possibly their best – Flotus, with its mild Krautrock vibe, and tunes from their long career. For two numbers, Wagner slouches in front of the microphone, an oddly arresting performer with jerky, minimal hand gestures. Three songs in, he dons a guitar for Flotus's 18 minute The Hustle, affecting even in sadly truncated form.
Other treats include the obscurity Randi from the extended version of early classic Thriller, the first record of theirs I bought, from 1997. That play on Michael Jackson is appropriate, for soul infects Lambchop's unique sound. There's a lot of Philly and more than a hint of Al Green in Wagner's delivery. The vocal effects used are, at times, reminiscent of Kanye West. There's also something very hypnotic about their sound. A peaceful, laid back vibe runs against barbed, enigmatic lyrics.
Surprisingly, they only play their finest song, Flotus's In Care of 8675309, in response to an audience request, as an encore. (I know that critics aren't meant to get involved with the show but, yes, it was me who called out for it, astonished that they hadn't played it already, and I'm delighted I did, as they didn't do it at Green Man). It's their Desolation Row and, also, their catchiest tune. Tonight, it gets a full, impassioned arrangement. The day after Charlottesville, Wagner gives the line 'Can we take the next ride to your demonstration?' particular anguish.
More of a career retrospective and less of a Flotus oriented set than I was expecting (I confess that, big a fan as I am, I didn't recognise every numbers & a trawl of setlist.com tells me that the set varies every night), Lambchop didn't disappoint (Well, The New Cobweb Summer would have been nice – maybe on Sunday). The place wasn't as packed as I expected, but that's August for you. On keyboards, Tony Crow was in sparkling form and told some corny jokes (I will try to recycle the one about Matt's penis). Matt Swanson's bass guitar was understated, yet utterly distinctive – hear him play and you know it's Lambchop. We missed support Roxanne De Bastion, but she  joined them for the 90 minute set's closing cover of Prince's kinky classic When You Were Mine – odd to hear a posh English voice on this, but it worked. Lambchop were well worth the long wait and I look forward to seeing them again on Sunday. If I have the time and energy, I'll do another Green Man blog (which replaced the Glastonbury blog, always the most popular feature on my website – update: Lambchop were great. Apart from the first four numbers, their setlist was entirely different from the one reviewed here. In place of a blog, here's a link to my Facebook album). Here's the biggest obscurity from last night's show.