Public Service Broadcasting at Rock City, October 21st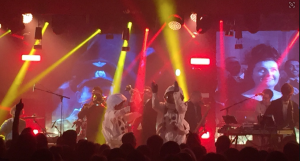 Public Service Broadcasting hardly sound like the quintessential live
act. Their albums could double as the soundtrack to an installation or
documentary. 2015's impressive album The Race for Space was recently
followed by an album with a less commercial but no less worthy
concept. Every Valley charts the rise and fall of the Welsh coal
mining industry between the 1950's and 1980's.
Founder J. Willgoose, Esq. on guitar, is joined by Wrigglesworth on
drums and newest member J F Abraham on bass. Each also plays sundry
other instruments. They could be three bespectacled secondary school
teachers. Willgoose, from the back of the crowded floor, resembles
newsman Robert Peston, giving enthusiastic, polite introductions.
Illness forced me to miss them last year, but I was determined to see this tour and am delighted I came.
A rammed Rock City is here for a good time. Two tracks from Every
Valley set an intense mood, then the uplifting Theme From PSB gets the
party started. It's a relief, after half an hour, when the air
conditioning comes on.
This is a joyous show, with PSB frequently joined by Two Brassy Gents
and, on They Gave Me a Lamp, Haiku Salut, who also re-emerge, dressed
as cosmonauts, for the encore (see Robin Lewis's picture, above).
I have rarely seen a more carefully balanced set.
Blending songs from their two concept albums with the
less cerebral first LP, they create a set that flows logically to an
exhilarating climax. The video backdrops are outstanding, making
terrific use of archive footage and interviews. The only issue is that
sometimes the male Welsh voices are drowned by the music.
Encores of Gagarin and Everest bring the 95 minute set to an
exhilarating close. Kudos to whoever came up with PSB's witty, pre-gig
announcement. This explained why it's a bad idea to make films on
phones during the 'hard rock/soft pop' show. 'But a few photos is
fine'. It worked a treat, with barely a camera in sight throughout,
enhancing a proper, beat driven, highly visual, Rock City classic
Saturday night.
Apologies for the lack of recent posts: computer issues, trying to write a novel, start of term etc. I don't put the majority of my Post reviews on here, but this one isn't online. This month (below) I've also reviewed Squeeze and Slaid Cleaves for them. Follow the links to read the reviews. Press 'play' below to hear 'Theme From PSB'.
PSB setlist
· Every Valley
· The Pit
· Theme From PSB
· The Now Generation
· Korolev
· People Will Always Need Coal
· Go to the Road
· Night Mail
· Spitfire
· Progress
· They Gave Me a Lamp
(with Haiku Salut)
· All Out
· The Other Side
· Go!
· Lit Up
· Encore:
· Gagarin
· Everest