Billy Bragg, Rock City, November 18th, 2017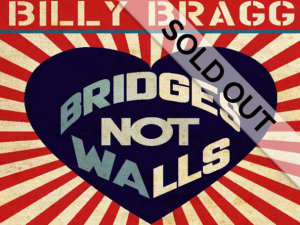 Billy Bragg wants us to know he hasn't joined the 'Christmas Kitsch' market. 'I see Bananarama have got in early'. But he's here to do his big numbers. A mass singalong of Sexuality starts the show, and a packed Rock City doesn't just do the chorus, it knows every word and fills in the back harmonies. Billy is visibly impressed, gushing about Rock City Saturday nights and the best singing on the tour.
He's brought 'the green monster' on which he wrote many of the songs, reminding us of his first Nottingham visit, 33 years ago, to a packed basement club called The Garage, especially when he plays 'The Milkman of Human Kindness'.  The guitar's doing his back in but it's worth it.
It's a nearly solo show. CJ Hillman provides sweet pedal steel on several songs and impersonates Johnny Marr on Accident Waiting to Happen. Greetings to the New Brunette (Shirley), St Swithin's Day, The Warmest Room and Levi Stubbs' Tears are given great, faithful renditions.
Bragg's between song repartee remains half stand-up/half sermon. He has plenty to say about Brexit and Trump. The buckets are out for Notts homeless charity Framework. Woody Guthrie's Ain't Got No Home is dedicated to the campaigners sleeping overnight on the Forest, who were in for a cold one.
He plays most of new EP, Bridges Not Walls, including Why We Build The Wall (which I wrote about last time he played Nottingham), explaining how he came back to writing political songs like Saffiyah Smiles. Keep Faith (dedicated to the audience) and Power in a Union close the set in resolute manner.
The first encores, Full English Brexit and The Times They Are A-Changin' (Back) demonstrate that, when it comes to mixing irony and empathy, Billy's no Randy Newman. The old person voting for Brexit deserved better than the song's awkward mix of empathy, cynicism and condescension. Fine, of course, to update your own songs (btw 'Must I Paint You a Picture' would be much improved by removing that naff 'if we lived by the sea' line), but please don't try it on Bob Dylan.
All that's forgiven with the last two numbers. He leaves us with a terrific, rewritten Waiting For the Great Leap Forwards, funny and uplifting as ever, and a belting singalong of New England. Stirring stuff and probably the best Billy Bragg gig Nottingham's seen since his classic election eve show at Rock City in 1997. What we wouldn't give to live to see another one of those, eh?
This is an extended version of my review for the Nottingham Post, with a few more personal opinions. Last time I reviewed Billy at Rock City, I got some stick for pointing out that he was in less than great form (he'd had a bereavement, but punters weren't to know that). Good to see him make up for it with a full, satisfying two hour show this time.
Waiting For The Great Leap Forwards