The Hollies at Nottingham Royal Concert Hall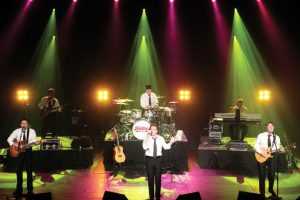 Bit late putting this up, but I think it's worth preserving my Hollies review on this blog. A slightly extended take on April 25th's show, originally for the Nottingham Post, whose Kevin Cooper took the photo above.
Manchester's Hollies are in their fifty-sixth year. They formed in 1962, around the same time Ringo Starr joined The Beatles. OK, their Paul (Graham Nash) left in 1968 (wonder what happened to him?), and their John (Allan Clarke) retired 18 years ago. But they still have two, very recognisable original members, drummer Bobby Elliott with Tony Hicks on lead guitar and backing vocals. They still have a catalogue of great pop songs most modern groups would kill for. And they still pack the Concert Hall.
I first heard them when I was still in short trousers. Their songs were everywhere but my parents didn't buy them. Mum bought The Beatles, until they got a bit weird. I first connected with The Hollies when they were just past their golden age (the Nash era), being particularly fond of I Can't Tell the Bottom From the Top and Gasoline Alley Bred. They had huge hits after that, but I've always been a bit ambivalent about The Air That I Breathe and He Ain't Heavy (He's My Brother). Guess I don't have a strong taste for power ballads (though these songs predate that term).
The band open with a verse from Graham Nash's swansong, King Midas in Reverse. When this peaked at number 30, the band reverted to type (but oh, what a glorious type it was) and he left to join Crosby and Stills, taking rejected song Marrakesh Express with him. From then on it's non-stop hits: I Can't Let Go, Sorry Suzanne, Jennifer Eccles and On A Carousel go by in a rush. Peter Howarth, born in 1960, has been their lead singer since 2004.
I had my doubts about seeing the band with any lead singer other than Clarke. They were soon dispelled. The group are in glorious voice (though now and then backing vocals get buried in the mix, which is a pity). Howarth has a classic Merseybeat sound, perfectly suited to the material, but steps back to let Ray Stiles and Steve Lauri accompany Hicks to sing a glorious Gasoline Alley Bred, the song that best reflects where this Manchester band come from. Listen To Me leads into the newish Weakness, which sounds more like The Eagles than The Hollies but goes down OK.
We're Through features Bobby Elliott's one drum solo of the night, which is brief but brilliant. I Can't Tell The Bottom From The Top, Just One Look, Stay and a rearranged Look Through Any Window are all packed into the first half.
The second hour leads off with the relatively obscure rockabilly of The Day That Curly Billy Shot Down Crazy Sam. It includes Here I Go Again and a wonderful I'm Alive. Bobby, now 76, tells us about two encounters with Bruce Springsteen, and how grateful he was for their early cover of Sandy, which they play. The ever youthful Hicks (72), his guitar characteristically crisp throughout, performs a sitar/guitar intro to The Baby, before Carrie Ann and Stop, Stop, Stop bring things to a climax.
The Hollies don't leave the stage but He Ain't Heavy, He's My Brother and The Air That I Breathe feel like encores. Both get standing ovations.
They'll keep coming back as long as they get reactions like this, Howarth tells us. Creedence pastiche, Long Cool Woman In A Black Dress brings things to a raucous conclusion. When I get home I check out my vinyl of the 70's anthology 20 Golden Greats. They've played every track on it. Lovely stuff. To misquote Neil Young, long may they run.
I'm Alive – The Hollies (The Beatles (Invite You To Take A Ticket To Ride), 7 June 1965)