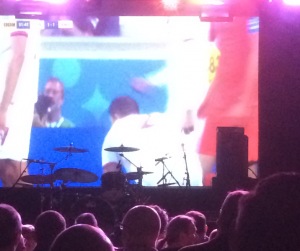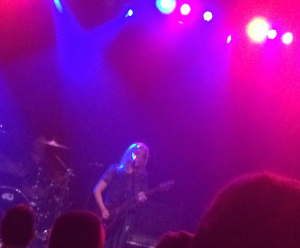 I only post occasional reviews that I write for the Nottingham Post – they have their own website, after all and it used to be easy to find everything I'd written for them. However, yesterday, when I checked to see what I'd said in my review of Belly at Rock City less than two years ago, I found that that review, along with loads of others, had gone. Nothing before October 17, which means nine years of reviews gone. I don't know if this is connected with a recent change of policy, whereby only gigs likely to attract a high number of clicks get reviewed. Which also means that this is probably the last time I'll review a Rescue Rooms gig*. Pity.
Here's what I wrote on July 19th two years ago, rescued from my previous computer:
It's twenty years since Belly split. Twenty-three since their one Nottingham gig, at Trent Uni, as was. Their reputation has, if anything, grown. Tonight, their Rescue Rooms show had to be upgraded to Rock City. Especially welcome to have room to breathe on a sweltering night.
Belly were always poppier than Tanya Donelly's previous band, Throwing Muses, and less cutting edge than her other band, The Breeders. Debut 'Star' was a huge success, but follow-up 'King' was less focussed. They packed it in after four years. In the 90s, bands didn't stick around, the way most do now. They left unfinished business.
Tanya has had a varied solo career, while bassist Gail Greenwood joined L7, where she learnt to carry herself like a rock star. She does most of the (plentiful) banter tonight. Donelly, still stick-thin in a black T, is a more wry presence, but it's her voice and guitar that hold it all together.
These are haunting songs at the melodic, jingle-jangle edge of grunge, with the odd country influence. Annoyingly, they skip their best ballad, Untogether, tonight, but this is made up for by a beautiful version of The Bees. The big numbers are carefully spaced out in a set that includes a brace of new songs, untitled. Gail offers to crowdsource names. Both sound strong.
Surprisingly, two-thirds of the way into a 90 minute set, they have an interval. 'We're our own support act.' One song is introduced as having 'grade A wanking' by Gail, a term that guitarist Tom jokes defines their sound. They're a lighthearted bunch these days, but when they hit form with songs as strong as Gepetto, Dusted and Super-Connected, they're magnificent. Each is rapturously received by an audience who never expected to hear these songs played again, and deservedly so.
And here's an extended version of today's review for the Post, which can currently be read here.
'In order of who you love,' bassist Gail Greenwood asks, 'is it your first born, your football team, then… Belly?' The question gets a big cheer from a venue crowded with loyal fans. Nevertheless, tonight, Belly face two big tests. Two years ago their reunion gig had to be upgraded from the Rescue Rooms to Rock City and they stormed it. This time, they're up against England's first world cup match and have an album of new material to include.
Sensibly, the Rescue Rooms shows the football match on a big screen behind the band before they come on stage, and a late goal ensures a great, boisterous atmosphere.
Belly's ex-Throwing Muses and Breeders leader, Tanya Donelly, sticks to business on stage. The banter is left to Gail, who, strangely, slags off the 'shitty' venue they played two years ago***. It is true that the Rescue Rooms suits them better than Rock City. Their joyous brand of jingle-jangle grunge derives more power from the intensity of a smaller space. The sound is superb.
The set's split into two 45 minute halves, opening with Now They'll Sleep. Strong arrangements of first album favourites Dusted and Gepetto fit between the new songs.
It's the second half, opening with Seal my Fate, when things really take off. They have two terrific double whammies: first, Slow Dog and Feed the Tree, the biggest numbers from Star. The Bees and Super Connected, the best numbers on King, are outstanding.
Super-Connected would have been a great way to end the set but new ballad Human Child is the closer. For an encore, I'm hoping for first album ballad, Untogether, as covered recently by Kurt Vile and Courtney Barnett. Instead the three song encore consists of new album bonus track Starry-Eyed and compilation-only tracks, Thief and Spaceman. Nice, but an odd comedown.
I know I mentioned their not playing Untogether in both reviews but missing it out does seem perverse (they played it when my brother saw them in Sheffield in 2016). That I had to look up where each of the encores came from tells its own story. But, hey, Belly are great and play what they want. The new album's good. I've now seen the reunited band the same number of times as I saw the original (once, pre-Gail) band. I'd happily go see them again. And pay.
Belly – Untogether
Belly – Spaceman
*No Post photographer last night so the photos above are from my phone.
**As you could almost certainly tell.
*** On Twitter, after this review came out, the band insisted it was a joke, which I'm happy to clarify. The word 'shitty' was changed to 'bad' in the print version of this piece btw, but allowed online…