AN EVENING WITH DAVID SEDARIS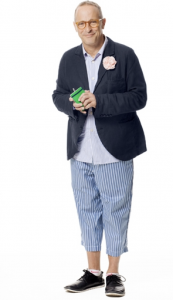 This is an extended version of my Royal Concert Hall review for the Nottingham Post. It isn't online, so I can't nick their photos or link to it here.
David Sedaris isn't a household name unless your house is constantly tuned to Radio Four, but the 62-year-old humourist's ascent is remarkable. He writes essays and diaries for the New Yorker and public radio. I've been reading his stuff for twenty odd years but hadn't taken in how successful he's become. His latest book has been number one on the New York Times bestseller list for six weeks and counting. From North Carolina, he now lives, with his husband, Hugh, in the South Downs, where his hobby is collecting litter (he has a refuse truck named after him, according to my +1 and that's "better than a tram'. 'No, it isn't,' I replied). His work strikes a nerve here, too. So much so that he has graduated from filling the Playhouse on his last visit to packing a venue three time the size tonight. Two thousand tickets at thirty quid a time is serious money, even after the venue's cut. I never made that much in a year back when I wrote best sellers, some time last century.
Tonight is, essentially, a reading, but a theatre show is, traditionally, at least 90 minutes long. How will one guy fill such an expanse of time and make us feel like we've had value for money (oh, OK, I didn't pay)? Easily, as it turns out.
Sedaris wears a long pale mac, a white smock and tie, black leather slippers and a huge pair of Japanese trousers, all of which he describes to us while standing behind a large wooden lectern. He warms up with a monologue called 'In My Humble Opinion'. It's rather like stand-up comedy where one's allowed to read, making the jokes better written. His ad libs are fine too, though. At one point, we're told how he didn't graduate from university until he was thirty, having dropped out at twenty due to a drugs problem.
Variety is key. Sedaris tries out an essay about walking in cities that's due for The Guardian next week, confessing at the end how much he writes – pages every day – and rewrites, and that he still has to cut a hundred words. The evening's tour-de-force is a long essay based around his sister's suicide. It's funny, moving, occasionally profound and superbly structured.
A frank, funny commencement address (with a joke about priests that I'm tempted to repeat) and a bunch of diary extracts please the packed house. 75 minutes fly by with plenty of rude jokes and dark humour, including a few choice words about Trump (nothing on Brexit). The closing, 15 minute Q and A is, effectively, the encore. To extend the band metaphor, it has a few patchy solos and the odd good bit, entirely dependent on what the audience calls out for. I'll bet the signing queue was massive, but fair play – he's a class act in a long line American humourists, and one who has made surprisingly few compromises to reach this pinnacle. You can't begrudge his success.
Sedaris is a couple of years older than me an a few years younger than the great Loudon Wainwright, who has a not dissimilar sense of humour, so have a song from him, from 1971.
Loudon Wainwright III – Suicide Song