Kacey Musgraves – Oh, What A World, Nottingham Royal Centre, October 26th, 2018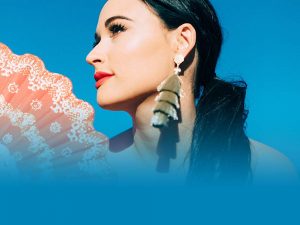 This review was written for the Nottingham Post. Now and then an act plays the Concert Hall you know you'll never get to see there again. They're destined for arenas and bigger. Tonight, Kacey Musgraves joins that short list. After some small, self-recorded releases and two mainstream country albums with sassy lyrics, the thirty-year-old broke through to another level with this year's Golden Hour, as glorious a set of country-pop as you'll hear. Until today's release of Robyn's Honey, it was the pop album of the year, no contest. No wonder the Royal Concert Hall is packed.
Dancing Queen and Staying Alive preface the thirty-year-old star's arrival. The staging is elaborate, with a large three fan backdrop and raised area where the Texan stands, hidden in darkness, hitting the high notes of a gorgeous Slow Burn. This opener shows off a voice that's pure but never lacking in character: perfect for country. She descends the stairs for the catchy Wonder Woman and it's clear that this is going to be slicker than any country show you've ever seen. Musgraves, in pink singlet and pantaloons with multiple flairs, is now a pop act. A younger, prettier, more likeable Katy Perry with a better voice.
Better songs, too. Butterflies and Lonely Weekend do the business. She performs every number from Golden Hour and only Family is Family and High Time from its predecessor, Pageant Material. Nothing from her Christmas album, thankfully. The crowd goes a little wild when she sings Merry Go Round from the hit breakthrough Same Trailer, Different Park. Her crack six-piece band, in matching brown suits, play superbly throughout.
'Country, I Can't Let It go' she says, before admitting that the new album is a change of direction. In this, she's meeting Kylie Minogue somewhere in the middle of the mainstream, but doing it so well that nobody's complaining. Oh What A World and Golden Hour are lovely. The very mixed audience (aged ten to sixty) takes over to sing the chorus of closer Follow Your Arrow, with its 'Roll up a joint – I would' line. Wonder how long that one'll stay in the set.
The 80 minute show is followed by a three song encore that concludes with the full disco of High Horse. How much longer will the handful of country songs stay in the set? No matter, maybe. Kacey Musgraves is well on her way to becoming a superstar.
Slow Burn
Wonder Woman
Butterflies
Lonely Weekend
Keep It to Yourself
Merry Go 'Round
High Time
Golden Hour
Mother
Oh, What a World
Robin Hood – Whistle Stop (with band intros) / Oo De Lally (Disney cover)
Family Is Family
It Is What It Is
Love Is a Wild Thing
Velvet Elvis
Happy & Sad
Space Cowboy
Follow Your Arrow
Encore:
Rainbow
Tearin' Up My Heart (NSYNC cover with singer from support Soccer Moms)
High Horse