Robert Macfarlane's UNESCO lecture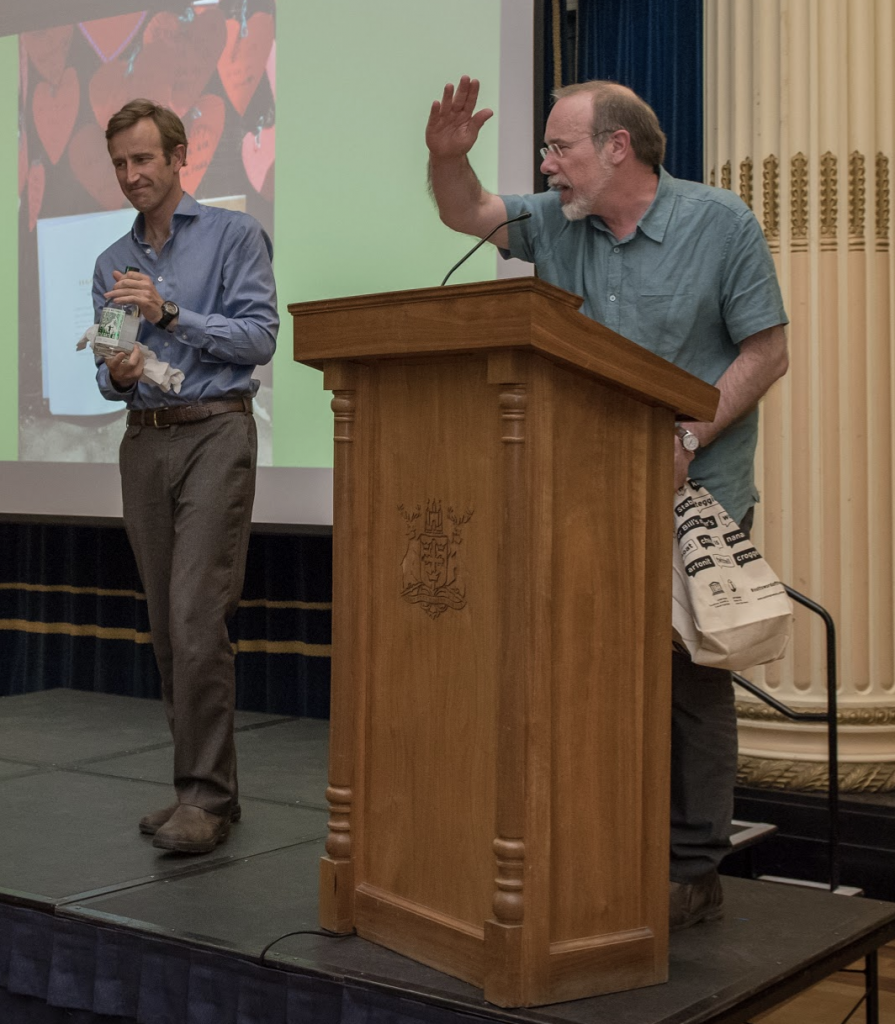 Last night's UNESCO lecture by Robert Macfarlane at the Council House was tremendous. Thanks to everyone who made it happen, especially the University of Nottingham for hosting it. Particular credit to my vice-chair at NUCoL, Patrick Limb, who organised 'The Lost Words' crowdfunder for Notts libraries and got us involved with Robert. He can be seen in the video of the speech introducing a beautiful short film about the book, one which reduced Robert to tears. While this was the big public event of the Nottwich conference (where Nottingham and Norwich UNESCO cities of literature host 25 of the world's other cities of lit) it'll be of particular interest to Sheffield friends & family as, in the main section, Robert links the community of trees to the community created to save Sheffield's trees. It's a powerful, moving account of recent events in the city where I was born. I don't post much about the City of Literature on here and with the conference going on don't have time to write much, but here's the speech I gave before the event and above you can see me giving Robert a thank-you bottle of Acorn gin, from Sherwood Forest, courtesy of Weavers of Nottingham, which he was very chuffed with. Thanks again, Rob.
The speech below was followed by speeches from the city council leader, David Mellen, NTU's VC, Edward Peck and the chief executive of the Arts Council, Darren Henley. UoN's VC, Shearer West, introduced Robert, as can be seen on the livestream linked above. I began by thanking our director, Sandeep Mahal.
Thanks to the University of Nottingham for hosting their annual UNESCO lecture here as part of our Nottwich conference. I bid a very warm welcome to every one of the delegates at the Creative Cities of Literature summit, which we're proud to host. I met many of you in Dublin three years ago & look forward to catching up. And of course, a very warm welcome to Robert Macfarlane, our guest lecturer.
This is the building where, four and a half years ago, we announced that the city would bid to become a UNESCO City of Literature. It was an ambitious thing to do and one that many people – sometimes including me – thought we had little hope of achieving. But we were determined to bring the city together, to celebrate our heritage, yes, but also to acknowledge our diverse, thrilling writing scene. Most of all, we wanted to make things happen.
And here we are, co-hosting what I've been told is the city's biggest International Conference this year, Nottwich. By the way, as a huge admirer of Graham Greene, I'm delighted we agreed to name this conference after the fictional version of Nottingham that Greene created for his novel about our city, A Gun For Sale.
Greene was only here for three months in 1926. He thought of Nottingham as a cultural desert & you know, he had a point. I've been here more than forty years. The changes in that time have been staggering. Though I'll tell you what, we've always had good libraries. Twenty-odd years ago, Notts libraries – who've always been superb at supporting local writers – managed to find twenty of us from across the county for a photocall in the Victoria Shopping Centre.
That was the only time I ever saw my friends Alan Sillitoe and Stanley Middleton together. I often wonder what the two of them – working class writers from lowly origins – would make of where we are now. By the turn of the century, new writers kept popping up all over. There was a groundswell of poetry, in particular. Did you know we have more poetry publishers, per head, than any comparable city in the world? Credit must also be given to Nottingham Playhouse who fostered the birth of the hugely successful and influential Mouthy Poets, giving them space and support. Under Giles Croft and Stephanie Sirr, they put new emphasis on producing plays by Nottingham-based writers like Andy Barrett, Amanda Whittington and Mufaro Makubika.
In early 2014, one of our playwrights, Stephen Lowe, became President of Bromley House Library. At his suggestion, the library commissioned Pippa Hennessey to look into how they might celebrate Nottingham's literary heritage. She came up with the idea of bidding to become a UNESCO City of Literature and would become our Project Manager during the bid. That summer we set up a company to manage the bid and, if successful, the designation. Our volunteer board included several writers and representatives from the Writers Studio, Writing East Midlands, the Playhouse, the City Council and, of course, both of our great universities.
We decided to become an educational charity. And we asked for help. After I was elected chair, I called Aly Bowden, director of Edinburgh City of Literature for advice. She told me we needed a shout line that summed us up in no more than six words. As every writer knows, writing short is much harder than writing long. Still, I think we managed to succinctly articulate what has always been and will always be our mission: Building a Better World With Words.
Half of the money to finance our bid came from Arts Council England, whose James Urquhart was an enormous support during this entire process. The other half came, in equal measure, from the city council and our two universities. We're both grateful for and proud of fostering that three-way partnership, which went on to be the basis for the city's European Capital of Culture bid – before the embarrassment that is Brexit ruled the UK out of the bidding – despite being disqualified, we demonstrated that we are an international city, one that, tomorrow, I'll be proud to tour with our visitors from around the world.
We submitted our UNESCO bid in summer 2015. That December, we learned we'd been successful, becoming one of what were then just fifteen cities of literature. It was and is a success that belonged to the whole city and, in particular, to every one of our writers, many of whom are in this room tonight. Six months later, thanks to our four key partners, from whom you're about to hear, we were in position to recruit a director. Sandeep Mahal took on her new role whole-heartedly, and she's done a fantastic job. Not only for us. Sandy now chairs the Creative Cities of Literature network. She'll make sure that delegates have a very fruitful few days here. We hope you have a great time.
Finally, I'd like to congratulate David Mellen, our next speaker, on his election as our new Council Leader and thank him, for coming here tonight to make his first official speech in his new role.
To finish, here's a song from the final album by Pulp, whose Jarvis Cocker is referenced in Robert's speech. This is 'The Trees' from 'We Love Life.'