Death in the Family – signed, limited edition.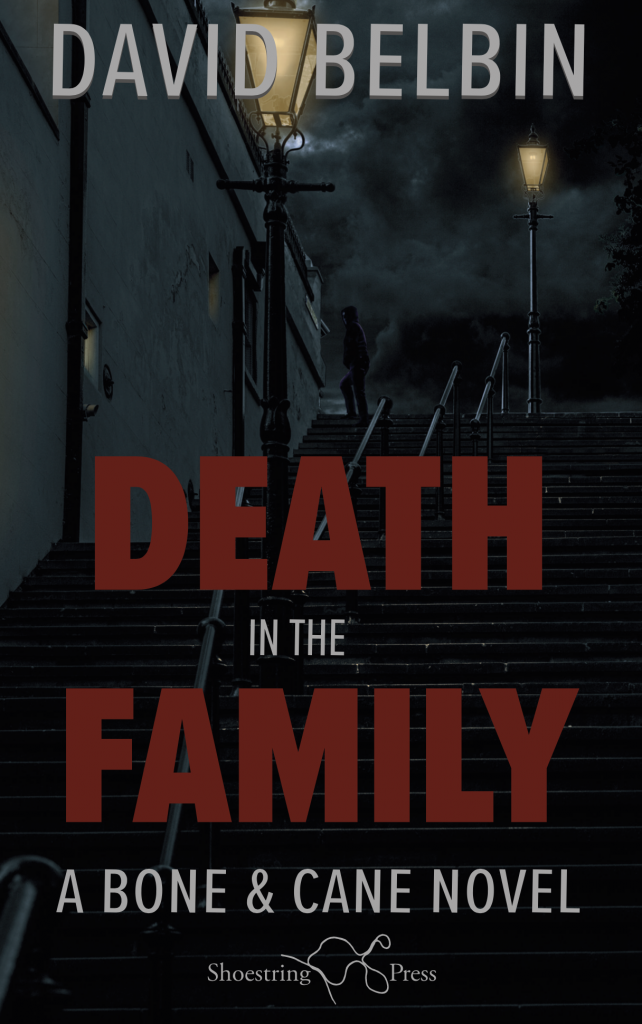 This month marks six years since the publication of the third Bone and Cane novel The Great Deception. Many readers assumed, not illogically, that the third novel marked the final part of a trilogy that had begun five years earlier with Bone and Cane. But that was never my intention. Indeed, back in 2015, I had a sabbatical from my part-time academic post to work on the fourth novel in the series. That October I was 20,000 words into the first draft when my oldest friend, Mike Russell, died of cancer, which took me off track. I was getting going again in December when, against our expectations, Nottingham won UNESCO City of Literature accreditation. I was, until recently, chair of the board, and found myself running things for nine months until we secured the funding to employ a director. Meanwhile… well, people close to us know what happened next, and I'd rather leave it there.
Death in the Family's first draft was, therefore, written over three to four years, after which it took several drafts to work out the ending, something I only managed this autumn, after a tough edit. In the meantime, my publisher, Freight, went bust within a year of The Great Deception's publication. Happily, John Lucas's excellent Shoestring Press, who published Provenance, my new and collected short stories, offered to publish the fourth book, and I benefitted enormously from John's rigorous editorial work, so that's all to the good.
The new novel is completely self-contained, like the previous Bone and Cane novels, and is plotted in such a way that if you've not read or have forgotten what happened in the previous novels, there's extra intrigue. The novel is also an experiment in use of point of view. It's written in four sections. The first has two points of view, the second four, the third six and the final one, eight. We don't get to see into the mind of one of the titular protagonists – a murder suspect – until halfway through. This technique ups the suspense – though getting the continuity right in a novel of this nature was an absolute bugger.
Why did I write it that way? Because I like a challenge and it suited the story. The other way I challenged myself was in exploring an area that I knew was fraught with potential pitfalls -that is having two Asian point of view protagonists and a third as a potential murder victim. But what's the point in writing anything that doesn't challenge or even frighten you?
Death in the Family begins with the death of a dentist, Omar, whose wife Nazia, went out with Nick Cane back in the 1980s. At the time, Nick was her younger brother Bilal's teacher. In 2001, Bilal suspects that Nazia is having an affair with Nick, who may have murdered Omar. Meanwhile, Sarah Bone MP, who went out with Nick when they were at university, is standing for re-election in her Nottingham seat, but is expected to lose. The last thing she wants is to be drawn into a case with heavy racial elements. Sarah needs Pakistani votes though and Omar was one of her constituents. His brother Fahd is making accusations.
There are also ramifications from the events in the previous Bone and Cane novel The Great Deception that may or may not lead to the arrest of the person behind the double murder at the core of that novel. Death in the Family brings to its conclusion a storyline that began in the second novel What You Don't Know. Although there are loose ends. There are always going to be loose ends. Is this the final Bone and Cane novel? I hope not, but if turns out to be, the story does reach a satisfying end point. Do Nick and Sarah get back together? You'll have to read it to find out. Are your favourite characters in it? If they're still alive, yes.
Please buy a copy! The pandemic keeps pushing back the date for in person events (I've just had a gig cancelled in February) and we're still discussing launch plans, but publication has now been announced for March 2022. However, the book's ready now, and I hope to take its dedicatee a copy next Friday. We've decided to publish a limited, signed edition with a hundred numbered copies that will be available in time for Christmas. This edition costs £12. You can also buy additional copies for £10. These will be unnumbered but can be signed with a dedication if you ask for this in your letter or add paypal 'instructions to seller'. You can purchase copies here or by writing to Shoestring Press at 19, Devonshire Avenue, Beeston, Nottingham NG91BS. Make cheques payable to Shoestring Press. Postage is free. To buy a signed, limited edition by PayPal, use this link paypal.me/davidbelbin/12gbp To buy an extra copy (unnumbered but can be signed and dedicated) use paypal.me/davidbelbin/22gbp Make sure the address on your PayPal account is where you want the book delivered. The address doesn't always show up so probably best to put a message including your address anyway, plus any requests. You can also get £4.99 off a copy of my Collected Short Stories (usually £12.99) by buying a copy alongside the signed edition ie £20 for the two. The same deal now applies to my last Bone and Cane novel, The Great Deception. Use this link paypal.me/davidbelbin/20gbp and message me your address + which you want. Update The ebook is now available, for less than four quid, either from Amazon or all other ebook suppliers.
Or you can wait until March and buy a copy in person at the launch or at independent bookshops. The paperback won't be available on Amazon (except via second-hand resellers) but the ebook will also be available in all formats in March (see update above for links). This novel, along with the previous three Bone & Canes, which I now own the rights to, will be published by my ebook imprint East Lane Books (one day I'll explain that name). Reviews on social , Good Reads, the dread Amazon etc will be much appreciated.
The great cover, picking up a key story detail, is by my friend Graham Lester George, to whom, thanks.