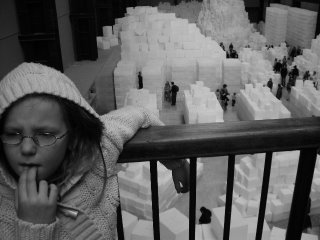 Every year, we put together a best of year CD for a few of our friends (and if you're one of them, you may wish to look away until your copy arrives) and, last year, I posted a set of sleeve notes online, an indulgence which I'm going to permit myself again (I'll update daily until complete). Non muscially minded readers, scroll down to find out more about Young Adult Fiction. Or you can visit my myspace where the song currently streaming is my favourite B side of the year (why not open another browser window, then you can listen to it as you read this…) The photo on the left is the cover photo, Brighid at Tate Modern earlier this year, with Rachel Whiteread backdrop.
1. Amy Winehouse – Rehab I can take or leave Amy's jazzy debut, but I'm looking forward to the album this came from. Back To Black is supposedly full of girl group influences, which is fine by me, only this is something else, a big, bluesy, defiant monster of a pop song. You just know that Nina Simone would have covered this. Her 2006 Rescue Rooms show sold out before I got onto it, but Mike and I are seeing her at Rock City in March.
2. Paul Simon – How Can You Live In The North East? I went to see Morrissey at Nottingham Arena last night and, you know, he was OK: murdered a couple of Smiths songs but did some other oldies well, cherry picked a few solo highlights and odd B sides and played too much off his new album (which won't be troubling this CD), but he's long, long past his sell by date. Contrast with Paul Simon, 18 years his senior, and this stunning number (aural soundscapes by Eno, who's no spring chicken). I've already raved about his live show (scroll down an entry) which was heart warmingly wonderful, so I won't go on too much about this infectious song, the best lines of which crackle with the force of good poetry. 'I am wearing my father's old coat'. Great album, his best since 'Graceland'. The Word magazine says he's one of the uncoolest men in rock ie: he's hot.
3. CSS – Let's Make Love And Listen To Death From Above Sue's just gone to work with what I hope is the final draft of this CD in the car. There are a couple of tracks later in the CD which might not make the final cut (one is an artist we argue over every year s/he has an album out). 'This one reminds me of something' she said of this single, and I think it's the Tom Tom Club (a Talking Heads spin off) who made the mighty 'Genius Of Love'. A bonkers, very catchy record. CSS stands for 'Cansei De Ser Sexy' which evidently means 'tired of being sexy'. They're on an NME tour next year and are also playing a rescheduled gig at the Rescue Rooms in February. Mike's written about this over in the Stylus singles of the year where it's number 20 (number 21 nearly made it onto this cd too – there's one more track from their list to come).
4. Peter, Bjorn and John – Young Folks Gloriously innocent Swedish pop made by people who don't care that they're wearing unfashionable sweaters knitted by their mums. Sunny day, walking down the street hand in hand, falling in love music. Marcello Carlin raved about this song on his guest post at my favourite mp3 blog, said the gramophone. Indeed, you can currently download it there, along with Sean's favourite other 34 songs of the year.
5. Primal Scream – Country Girl The outstanding opening track of their otherwise unremarkable, pastiche filled 'Riot City Blues', this is the Scream doing their finest Stones circa 1970. At Rock City a couple of weeks ago, they managed to play to their strengths (following promising new band, The View, whose first single made it to the first draft of the CD before falling to the wayside) and were as entertaining as ever. They also, Michael and I observed, have the best looking audience of any band we've seen.
6. The Pernice Brothers – B.S.Johnson An original, perceptive song about the iconoclastic, experimental British author, inspired by Jonathon Coe's biography, 'Like A Fiery Elephant'. "Write a book of debt everyone must pay / exact revenge in a grotesque way." Coe said (I paraphrase) that the Pernice Brothers do in two minutes what it took him a whole book to do. I wrote a letter to the Guardian about this song (click here and scroll down a bit). I recommend the recent omnibus containing three of BSJ's novels. Sadly, Johnson's Nottingham set book in a box ('write a book of leaves shuffled by the wind'), 'The Unfortunates' is out of print again.
7. The Hidden Cameras – Death Of A Tune One of the best songs on this Canadian group's fine third album, 'Awoo'. They did a great show at the Social earlier this year performing what they describe as 'gay church music'. Not so much gay subject matter on the new album, making the lyrics a little less interesting, but the songs are as strong as ever. If I'd had more space (towards the end of cassette days, I got up to 110 minutes, meaning I lost half an hour when we moved to CD) I'd have included a track from the other great Canadian album of the year, Broken Social Scene.
8. Slaid Cleaves – Call It Sleep Slaid has one of the great American country voices, a rich, yearnful sound that sits somewhere between James Taylor and Loudon Wainwright III. He's a terrific performer (we saw him for the third time at the Maze this year and he was as engaging as ever) who always performs numbers by his favourite writers as well as his own material. The new album 'Unsung' consists entirely of cover versions of songs by obscure writers (he took great pleasure in describing to us how one of them got his first ever royalty cheque as a result of this album). This is my favourite, a wistful ballad by Chris Montgomery.
9. Bob Dylan – Workingman's Blues number two What is there left to say about Bob Dylan? His new album is better than the last one. This is one of three outstanding tracks (the others are 'Nettie Moore' and 'Ain't Talkin', although there are plenty of other pleasures to be had on 'Modern Times'). I'm seeing him for the umpteenth time next April. And there's a little bit more Bob to come.
10. Bruce Springsteen and the Seeger Sessions Band – Pay Me My Money Down I've written about the Bruce live experience in the entry below. This was the live highlight from the new album, although if I'd had the new 'American Land' edition, I might have included his fantastic New Orleans updating of the old standard (which I know through Ry Cooder) 'How Can A Poor Man Stand Such Times And Live'. But I loathe – repeat loathe this new phenomenon, first championed by the redoubtable Elvis Costello (whose new album, with Allen Toussaint, is a complete throwaway, good reviews not withstanding) with 'Painted From Memory' in '99, whereby an album is reissued the same year it first came out with a bonus disc to tempt the faithful to buy it again and then give away (or worse, keep) the first copy. I'm not buying into it – Flaming Lips (no tracks from their over-rated new album here, either) etc take note.
12. The Lemonheads – Steve's Boy A classy comeback album, ten years after the ramshackle 'Car Button Cloth'. Michael and I saw them play a great gig at Rock City to a sparsish crowd. This might not reach the stoned, tune heavy heights of E
van's solo album 'Baby I'm Bored', but it's one of those records where you put on a track and end up playing the whole thing. New member Bill Stevenson wrote this song, a taut teen tease with a terrific tune (and no alliteration).
13. Joan As Policewoman – Eternal Flame From the album 'Real Life' and nothing to do with the Bangles song of the same name, this is a yearning pop soul classic which, were it not for the title making it too obvious, I'd be tempted to describe as a 'torch song'.
14. Gnarls Barkley – Crazy The most predictable song on the CD, the first track to get to number one on downloads only. To avoid predictability, I did consider putting on Shawn Colvin's fine cover version of this from her tour last month but it would be insulting, because this is an awesome soul number, one that I've yet to get fed up of, despite it being played to death and covered by everyone from the Raconteurs (no room for them this year either, sorry) to the Flaming Lips.
15. Ali Farka Touré – Banga There are only a handful of performers I really regret never having seen live and Ali Farka Touré is one of them. I had a ticket to see him at the Old Vic in the early '90s but came down with a migraine. Sue sat at his feet and became a huge fan. This is from his final, and, many argue, finest album, 'Savane'. You can hear the influence of his scorched desert blues in Tinariwen, whose new album comes out next month.
16. Luke Haines – Leeds United 'When I get home, my wife will kill me'. A sly song about the Yorkshire Ripper and football. Don't miss the 7″ only b side 'I Am The Best Artist' currently streaming on my myspace. The other stand out song on his new album is about Gary Glitter. Oh yes, a man who knows his best subjects: 'The north, the north, where we do what we want' – Haines at his best, on Englishness and evil, also a subject for
17. Jarvis Cocker – Fat Children The Jarvis album, coincidentally, has a song about the fake Yorkshire ripper 'I Will Kill Again' and another called 'From Auschwitz to Ipswich' – bad timing maybe, but not bad taste. This one is Sue's choice, as she ruled out 'Running The World', which originally concluded this CD, for bad taste, or, at least, because of the one not completely rehabilitated word that she didn't want inflicting on the children of our friends (but you can still hear it streaming here).
18. The Pet Shop Boys – Indefinite Leave To Remain From the worst album of their career comes one of the best, most consummately crafted songs of the year. As you start to listen, you assume this is about an asylum seeker, then you notice that the words also work as a very particular kind of proposal. So this one is dedicated to two of our oldest friends, M and K, who had their civil partnership ceremony earlier this year.
19. Scritti Politti – Dr. Abernathy Return of the year. While, live, Green remained an awkward proposition (see the post below), the new album 'White Bread, Black Beer' is the best of his career. The lead single 'The Boom Boom Bap' is one of their best songs but, since it's been playing on my myspace for months, I thought I'd go for one of the longest, most complex tracks, where the new Scrits innocent Beach Boys sound meets the more old style funky, clever white boy middle section about decadence. A grower, as is the whole album.
20. A word from our sponsor Bob Dylan's XFM themetime radio hour has been one of our highlights of the year, seeing us through many a long car journey. The snippet here (which includes 'my wife and I were happy for thirty years – and then we met') is from the one on weddings, but the subsequent one, on divorce, seems to have a subject close to Bob's heart. My other early favourite is on drinking. I've just downloaded and burnt the two hour Christmas and New Years special which airs on Radio Two in the UK this Christmas Eve and is followed by nightly highlights from the series for a week, after which it will continue on 6Music. Dry wit, wacky clips and esoteric song picks. Unmissable. Now I'm off for a dose of Dylan xmas.
21. Teddy Thompson – I Wish It Was Over Son of Richard and Linda, his album 'Separate Ways' is one of the best of the year and I've seen him play two great gigs, one with a band, one solo. A bit of a heartthrob, with a loyal female following and a fine voice, he seems to specialise in songs about failed romance. This is as good a 'get lost' song as you'll find this side of mid-sixties Dylan and seems apt in what has been a bad year for some of our friends' marriages. And finally…
22. Shawn Colvin – Let It Slide What, no Aimee Mann? Sue nixed the one new song from her superb christmas album 'One More Drifter In The Snow' and suggested this, instead. Shawn Colvin did a great set at Sheffield Memorial Hall last month and her new album is a real grower, one of her best. This follows the previous song kind of neatly, as it's about keeping a relationship together, and I like the 'Maggie May' quote in the instrumental at the end. There were many more songs frm this year I'd like to have mentioned but I've run out of time to write about them. There's a trip to pack for. A merry christmas and happy new year to all of my readers.