Andy Williams says goodbye in Nottingham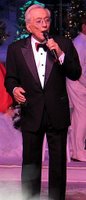 I wasn't sure about telling friends I was going to see this show, never mind blogging about it, as you don't get much more cheesy than Andy Williams. I was the plus one of my friend Mike, who was reviewing it for the local paper, and we were both there for much the same reason, to connect with our childhoods. The Andy Williams Show was regular Belbin family evening TV viewing and his 'It's So Easy' album was played a lot. And there's a connection to earlier in the week too, in that I saw REM play Williams' signature song, 'Moon River' the first time I saw them, at Rock City 23 years ago.
The show is something of a revelation. At 79, his voice is a little warbly at first, as he ploughs into 'Call Me', dressed in immaculate tux (he looks identical to the picture left), backed by a superb nine piece band and no less than four singers (who are only really needed for one song, which I'll come to). But when he goes into a medley including most of 'Can't Get Used To Losing You' and 'Love Story', his voice is fine, and I'm dragged back to the late sixties. There are a handful of ill advised cover versions from his new album thrown in throughout the shot (the less said about the other Williams' 'She's The One' the better, and I hope to hear Smokey Robinson play a better version of 'Just To See Her' on Sunday) but by the time he concludes the first half with 'Moon River', we're having a pur-reet-y good time, as Larry David would say.
The second half finds Andy in classic easy garb, embroidered black cowboy shirt and big spangly belt, doing his bossa nova routine. Then suddenly he's charging through a bunch of hits you've forgotten and seemed old hat at the time (well, I always liked 'Can't Help Falling In Love' but happened to have the Elvis original rather than Andy's UK hit – that said, it it was Andy's version I heard first). In tonight's context, they sound rather good: 'Solitaire', 'Home Loving Man', 'Happy Heart' and the aforementioned 'It's So Easy' which took me back to West Kirby and the smell of my dad's second Jag. The classic moment, though, and the one that drew me to write about this somewhat guilty pleasure was when the fantastic band began to play Jimmy Webb's "MacArthur Park', one of the most intricate, loopy wonderful pop classics ever recorded (by an actor, the late Richard Harris). The arrangement, which Williams energetically conducts, and the performance are stunning – it's a song perfectly suited to his voice and he owns it. The backing singers earn their keep with the full choral version. To hear Andy Williams belt out 'and someone left the cake out in the rain' would have been worth a night out on it own. A jaw dropping version. After that, it seems to be over, with the band introductions, but then it's back to really smelly cheese for a couple of new cover songs, before he pulls the show back with a terrific 'Theme From The Godfather'.
Finally, no big deal, he says how great it is to finish the tour in Nottingham. Then he adds what he's evidently resisted saying before, that this has been his last tour. He sings a few notes of farewell and he's gone, to a raucous standing ovation. A class act. I'm glad I caught him while I could.