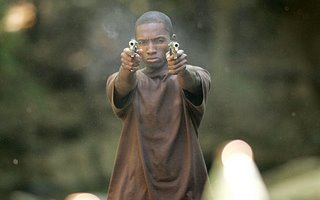 I don't tend to write about telly here. That's not because of snobbery on my part. I suspect I watch as much TV as the next Sky+ user. Usually it's less in the summer because we're sitting outside until it gets dark, but not this rain soaked year. No, I don't write about the TV I watch because my tastes tend to be pretty well reflected in the broadsheet type media that I read, and what's the point of writing 'me too, me too' when there are so many more obscure things to bring to people's attention?
However, I was at the end of year party with some of my MA students last night and realised that none of them had even heard of 'The Wire', the fourth series of which just finished on FX. And the only one who was aware of 'Heroes' (Sci-fi channel and, from next week, BBC2) knew about it because I kept banging on about the show in our tutorials about his sci-fi novel.
So, this week, instead of raving about the great Rescue Rooms gig I just saw by The National (just get their album 'Alligator' – trust me on this) or the great novel I'm reading ('Then We Came To The End' by Joshua Ferris, first novel I'm come across written in the first person plural ie 'we' voice, and, so far, it works really well), I'm going to talk about my favourite TV shows.
I grew up on Marvel and DC superheroes. Nine or so years ago, a well known editor asked me what, in the wake of 'Love Lessons', I wanted to write next. Come on, he said, what would I really, really like to do? I talked about exploring the concept of superheroes and at once, his eyes went blank. I soon changed the subject and never wrote about people with super powers. I didn't have an angle. The only superhero I'd invented was the short-lived Poohboy (written by me, artist, I'm ashamed to say, forgotten), the only issue of which was confiscated by my primary school form teacher at Our Lady Of Pity School in Greasby when I was 9 or 10. On that evidence, I doubt my secret abilities to come up with anything half as exciting as Ted Kring's high concept, multi-character, utterly engrossing story of people with secret superpowers who come together to prevent an apocalyptic attack on New York, while being pursued by a super powered serial killer.
If this premise sounds absurd, skip a couple of paragraphs. 'Heroes' is high class science fiction that wipes the floor with every superhero movie I've seen. The complex storyline is kept clear throughout, with shocks and twists aplenty. The telling owes more to graphic novels than it does to, say, 'Buffy The Vampire Slayer' (Although Clare, the one teen character, is a bit Buffyesque) and has little to do with the costumed superheroes you might remember from your youth (OK, one of the guys can fly, but that's about it).
I have two episodes of 'Heroes' left to watch and I'm saving them up. It starts on BBC2 next week and evidently the Beeb have bought exclusive rights to the second season, so I'll have a long wait to see it, but I don't mind, because the Beeb are showing it in widescreen and I'm fed up of the cropped 6:9 satellite TV image. This is a sci-fi series with stories better than anything you'll see at the movies, and it cries out for the best picture possible.
If 'Heroes' stands up to the best graphic novels (think 'Watchmen') then The Wire could be the great realist novel of our age, up there with Philip Roth in the last century or Dickens in the one before. It's the third David Simon crime series set in Baltimore (after the wonderful 'Homicide: Life On The Streets' and the mini series 'The Corner', which led directly to the first series of 'The Wire'). But 'crime' hardly covers it. I love 'The Shield' and 'The Sopranos' but 'The Wire' is deeper work. There have been four series so far, each of twelve or thirteen episodes. The effect of each series is cumulative – it isn't until the fourth or fifth episode that you're utterly hooked. Unfortunately, the first series is the hardest to get into, not because nearly all of the characters are black (although racism may be partly to blame for the series not showing on a bigger station) but because a lot of the street dialogue is, to English ears, very hard to follow. But stick with it, go with the flow and you'll get whats going on.
The first series concentrates on drug dealers, the second – determinedly more mainstream – on cops, corruption and the docks, the third on drugs and politics, the fourth on education. Evidently the fifth and final season will be largely about the mass media. The series has acting of the finest calibre, but none from anyone you've heard of (there's one guy from 'Queer As Folk' and another from 'Homicide' – that's it). The writing is epic in tone, uncompromisingly dark and complicated. Miss an episode and you're screwed. It deals with the most pressing contemporary issues, and it's fantastic television. 'Heroes' is terrific escapism, but 'The Wire' is social realism at its peak and, while that's not terribly fashionable or commercial these days, it's the kind of art I think is most worthwhile. We watched the final double episode on Saturday night without a break and were still talking about it on Sunday morning. How many shows can you say that about? We're living in a golden age of TV drama, and 'The Wire' is that age's most essential viewing.
'The Wire' reruns begin on Monday at 10PM on FX (Sky channel 165, Virgin 179) The first three series are available as dvd box sets.
'Heroes' starts with a double episode on BBC2 next Wednesday at 9PM on BBC2.