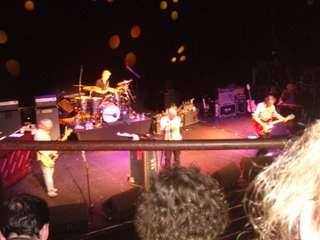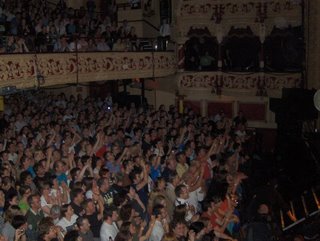 Just back from Dublin where Sue and I watched the first two nights in the Olympia (you can see us in the picture David Bell took left if you use a magnifying glass – we're fourth and fifth from the right in the third row of the balcony on the first night – the other picture is one Sue took of the band). Terrific little theatre, where we met up with the UK's biggest REM fan, Henry, and his son George before and after the show. Despite the 'rehearsal' nature, it was exciting stuff. The band's new material is nothing like 'Around The Sun', but often harks back to the glam rock end of 'Monster' and 'New Adventures In Hi-Fi'. The new song setlist was the same both nights, and it was interesting to see which songs stuck and which felt like filler. By the second night, when we were standing, we reckoned about two thirds of them were well up to scratch. 'Until The Day Is Done' felt like an album closer. (Michael worried he may have nicked the title – on the second night someone called out 'Nick Drake' twice, but that song, of course, goes "when the day is done"). The closing number of the main set, 'Horse To Water' sounds like a classic. In total, the songs sounded more typically REM than the last couple of albums, the REM of twelve years ago, or twenty five years ago.
This observation is perhaps reinforced by the choice of music played before the shows, bubblegum psychedelia like 'Circles' and the back catalogue songs ('chestnuts') they chose to perform. Although the words 'This Is Not A Show' appeared beforehand (flashed on and off first night, permanently the second), they threw in several oldies in the first set and encore. Main set first night: "Letter Never Sent," "Maps and Legends", "Second Guessing", "1,000,000" (first time I'd heard them do this since '84) and "Little America" (all pre-'85 songs) a top selection, enjoyed especially by my neighbour Jared, who had first seen them in 95 (hi, Jerad and Maura) – Michael said hi to Bono, The Edge and a huge bunch of people over from Athens. The encore was "These Days", "New Test Leper (odd tempo, didn't quite work), "Electrolite" and "I"m Gonna DJ" (an old "new" song, they finished every night of the last tour with it, sounds more like a B side than an album track but fits with the new stuff and any song with the line 'I'm collecting vinyl' in it has me on side).
Second night we got "Drive", "I've Been High" (both of these rather wonky, especially the latter) in the main set, together with a superb threesome of "Wolves, Lower," "Sitting Still" (where I scared my standing neighbours by leaping about) and "Disturbance At The Heron House" (great, never heard this done live before). Especially nice to hear "Sitting Still" as I'd just been reading J.Niimi's thoughtful, absorbing little book in the "33 1/3" series about the album it's from, "Murmur". The previous week, the Seven Ages Of Rock series credited the band and that album with creating 'alternative' rock. So it was great to hear REM playing songs that still sounded alternative, rather than crowd pleasing hits or AOR, a direction that a few of their more recent songs have crept into.
Were they playing such really old songs because they fitted their current mood or because they know they're their best songs or because it was easy for Michael to remember the lyrics (and improvise when he didn't)? Dunno. Michael talked about his lyric writing process both nights, in a demystifying but not quite convincing way (second night he claimed to have suddenly remembered, thru listening to the old songs, that the words didn't have to rhyme). He also made changes to at least one lyric, borrowing a pen on the second night to do so. "Second Guessing" had an intro both nights about how he used Peter, Bill's and Mike's name to self mythologise the group. He was reading lyrics from his computer (a black macbook like the one I use, but with a stencil saying 'IMPEACH' incorporating the illuminated mac logo). Two absorbing, entertaining not-shows – my only complaint would be that, at less than ninety minutes, they were too short.
We did some other stuff in Dublin too, the highlight a visit to Francis Bacon's fascinatingly chaotic studio at the Hugh Lane Gallery. Oh, and I got to stand in front of Bloom's front door from 'Ulysses', and drink a lot of Guinness, and look at the inventive ways Dublin pubs get around the smoking ban. And it didn't rain. Much.