Hydra, holiday reading and the return of Bridget St John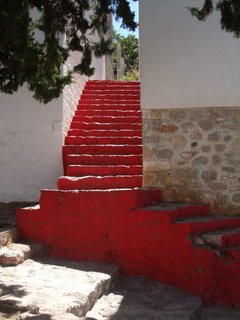 Just back from a great holiday in Greece, where we spent ten days on Aegina with our friends, John and Pauline, also visiting Athens, Poros and, for a couple of spendid days, Hydra. I photographed the red steps on the left while getting hopelessly lost wandering round the back lanes of this car-free island, looking for Leonard Cohen's home. I eventually found the place – not the one where he lived in the sixties – with the kind help of Apostolos, a local artist, but, of course, didn't knock on the famous front door – although I'm told that plenty of tourists do, to the annoyance of the current occupant. Aegina was devoted to swimming, eating, drinking and conversation. And books. My highlights: Robert Harris's Imperium, a gripping, well written thriller of a biography of Cicero and Richard Yates' Young Hearts Crying (a terrible title, but a marvellous, semi-autobiographical novel following a writer from the late forties to the early seventies). Now I'm back in Sherwood, working on my table tennis game and deep in MA dissertation marking, with a novel of my own to deliver before the start of term. I just went for a swim and think I've sussed out various plot holes that have been bothering me. We'll see.
Lots of new albums to listen to on my return. I've had an advance listen to Bruce Springsteen's 'Magic', out on October the first and it's pretty good. My current highlights are an old song, 'Long Walk Home' and a new ballad, 'Girls In Their Summer Clothes' and there are some catchy rockers on there too. The one I'm most looking forward to, out next Monday, is Joni Mitchell's return from retirement, 'Shine', her first album of new material in nearly a decade. But what's really cheering this month is to hear not one but two new songs featuring one of my favourite singers from the seventies, Bridget St John. She sings a lovely duet with Kevin Ayers on 'Baby Come Home' from his comeback album, 'Unfairground'. She can also be found as guest vocalist on Phosphene and Friends' 7″ single, 'See A Sign Defined', (the B side of which is an interesting version of Bridget's 'Ask Me No Questions'). This can be had for three quid, post free from www.pickled-egg.co.uk/ I met Bridget once at a Nottingham benefit gig where I was a fresher helping out. I still have the signed copy of 'Jumblequeen' to prove it. She was playing her penultimate UK gig before what turned out to be 30 years of near-retirement from the music business in the US. It's great to have her back on record. Who knows, maybe she'll even tour again.