Whatever Happened To Joe Egan?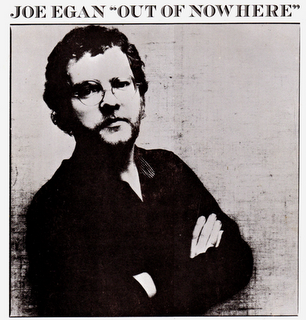 Stealers Wheel's three albums from the 1970's have been remastered and reissued, putting an end to a situation whereby you could only hear their music digitally on a cheap 'best of'. I've been bingeing on them in the car and on the iPod this week and finding that the songs sound just as good now as they did in the mid 70's, when I was a huge fan. Their music had a richness and invention that seemed to put them in the same league as The Beatles. Then they were gone.
But if you're under 45 and have heard of Stealer's Wheel, it's probably because Quentin Tarantino made memorable use of their first and biggest hit 'Stuck In The Middle With You' in 'Reservoir Dogs'. Or if you're a muso, you might be aware that they were the band Gerry Rafferty was in before he went solo and made 'Baker Street'.
Rafferty was good at choosing partners. His first was the soon-to-be comedian Billy Connolly in The Humblebums, who recorded the original version of one of his most gorgeous songs 'Steamboat Row'. In 1971 he made a pretty good solo album, which I used to have, before forming Stealers Wheel with Joe Egan. Their self titled first album from 1971 is a masterpiece. Produced by the legendary Leiber and Stoller (as was the second), it's got 'Stuck In The Middle', Egan's fragile, transcendent 'Gets So Lonely' and 'Another Meaning' and Rafferty's guilty but gorgeous 'Late Again'. The album's other big song (like 'Stuck', a co-composition) is 'You Put Something Better Inside Me' which Rod Stewart recorded at the time but didn't release. If he had, it might now be considered a classic, rather than a half remembered song by a neglected band.
The following year came 'Ferguslie Park', which is even better. That's the album that includes the catchy, cynical 'Star' and includes the utterly compulsive 'Nothing's Gonna Change My Mind'. Both Egan songs, as is the dreamy 'Waltz (you know it makes sense)'. Rafferty's best new song is 'Over My Head'. You get the sense of two fine writers competing with each other, influencing each other and bringing the best out of each other, as in the fine closer 'Everything Will Turn Out Fine.'
The third, post-split album, 'Right Or Wrong' (1975) is less consistent, perhaps because Leiber-Stoller are no longer around (production is by Mentor Williams). All but one of the songs are co-compositions and a couple go into their slightly funky shuffle-rock automode. But the album also contains some of their very best moments. You wouldn't want to be without it. (I'd say 'download these tracks' but none of the albums are on iTunes). There's the brilliant 'Benediction' which always takes me back to a big Catholic church with very formal masses that we used to attend on visits home to Sheffield. The title track is one of their best jaunty numbers while 'This Morning' is another of their transcendent, dope-tinged hymns. 'Home From Home' is a fantastic song – how could a duo this good decide to split up? Presumably they packed it in because they weren't successful enough.
A legal limbo followed. Three years later, Rafferty made 'City To City' which included 'Baker St'. An intermittent solo career followed, plagued by Rafferty's dislike of playing live. I followed the solo stuff for a while but it became clear to me that Egan was the songwriter I really admired, or maybe Egan when he was with Rafferty. I belatedly got my hands on Egan's 'blink and you'll miss it' first solo album from 1979 recently (it's currently available for free download here, unfortunately the link for 'Maps' leads to a dud file) and it's pleasant – nice single, great title track – but hardly in the same league as the Stealers Wheel songs. The plangent keyboards that Egan played and which are such a notable part of his dreamier Stealers Wheels songs are sadly absent. Both this and 'Maps' from '81 sank without trace and never appeared on CD (but see comments).
When I started to plan this post I went back to the Wikepedia page on Egan and discovered that he had contributed to a '92 Rafferty album, 'A Wing And A Prayer', so I bought it, only to discover that he's but one a bunch of backing vocalists on a dull album. BlogKihn has the same wording as Wiki, and concludes that 'as of 2005, Egan lives in Renfrewshire and runs a publishing company from his home'. But I can find no other trace of Joe Egan on the net to confirm that, so the title of this post stands. One of our best songwriters, still only 58, has been missing in action for 27 years. Gerry Rafferty's been pretty quiet for a long time too. A Stealers Wheel reunion, now that would be something to hear. But, in the meantime, they left us with two and a half classic albums. Seek them out.