New York New York New York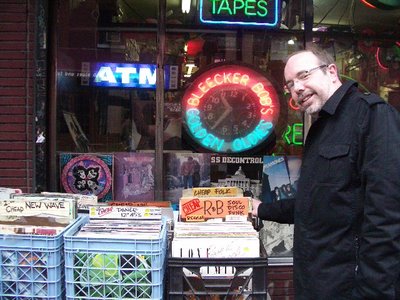 David Mamet's 'November' is the lightest thing he's done in years, and the funniest. We strolled through heavy rain to get there and found that, while the expensive seats in the beautiful Ethel Barrymore Theater were full, the cheaper ones upstairs weren't, so we were able to move from the back of the gallery to the front when the lights went down. It's a comedy featuring Nathan Lane as a corrupt US president who's about to fail to be reelected for a second term, with Dylan Baker as his adviser and Laurie Metcalf as his scriptwriter. More farce than satire, it's a surprisingly bubbly, infectious piece of work and combined with the dance party that followed, was a great way to start the weekend. We hit the floor early. The young DJ proved adept at getting the forty and fifty somethings to dance, then pulling in the twenty-something MA students. My top moment was when he segued a great remix of my favourite dance song ever, the Jackson Five's 'I Want You Back', into Lynyrd Skynyrd's 'Sweet Home Alabama'. Now that's what I call chutzpah.
Earlier in the day, I should mention an involving panel about creative writing tutors as whistleblowers in the wake of the Virginia Tech tragedy. Engagingly chaired by Jill Ferriss, this threw up a lot of interesting points without getting heavy or preachy and also gave me the opportunity to listen to and meet the author Jayne Anne Phillips, who I've long admired, on the panel as a fellow Creative Writing MA leader, in which context she gave plenty of sensible, thoughtful advice.
Saturday began with a panel about ultra-talk poetry. I was a little hazy, but it was absorbing, and gave me the chance to meet up with poet Mark Halliday who talked us through the principles of this kind of poetry (which he first named: think Frank O'Hara's Lunch Poems taken to the max) and read a fine new poem. Former US poet laureate Billy Collins came to the session and I grabbed a few words with him – mainly about what a great poet Paul Violi is – so when I went to buy a copy of the magazine that the panel was promoting, it had sold out. Oh well. Collins and Frank McCourt did a terrific joint reading later in the day, first time I've heard Billy read and (yeah, I know this is kind of shameful) first time I've come upon McCourt, who Billy introduced me to afterwards. Lovely guy, hilarious speaker, very good on school-teaching but the vast queue afterwards was mainly for Billy Collins, who manages the fantastic trick of writing about profound and complicated stuff in a way that is light, involving and, very often, funny.
That would have been a great way to end the conference. Georgina and I went out for a huge steak dinner, then found our way back to the Hilton for Martin Amis. Only he was on in the Sheraton, so we escaped the ballroom just before Louise Gluck took the stage and found Amis just before he finished his reading. Like most English writers who are from the generation below Amis, I have a complicated relationship with him, admiring 'Money' greatly and finding everything since a falling off, though the book he read from, 'House Of Meetings', is, I think, his best since 'Experience'. The relationship's further complicated by his having recently taken a job as a Professor of Creative Writing at Manchester University on a salary of £80,000 for 28 hours work, including four public appearances, one of which this was. On taking the job, Amis said that one of his main interests was to find out what young people were thinking these days (or, some cynics would paraphrase, to nick their ideas).
Amis was, as ever, entertaining, thought provoking and a little pompous, but, to be fair, unlike many of the US biggies, he did take questions from the audience. Three of them. And I got the last one in – asking how, a semester in, he was getting on in his new job and what he'd found out about his student's ideas (the question was rather more complicated than this, doubtless there's a transcript somewhere). Martin talked about the students' lack of ideology and how this was a good thing but had to confess that, no, he hadn't actually read any of the students' work (gasps from behind us). It soon became clear that he wasn't teaching creative writing at all, but good old fashioned literature. Potential Manchester students, take note.
The nightly dance party followed, where the awful free US beer was replaced by good old Heineken, and another great time ensued. Sunday I've already written about, but I should finish by mentioning the middle of Saturday, a beautiful day, when Georgina and I took a walking tour of the Lower East Side, touching on Tribeca, Chinatown and Little Italy before walking through Soho and into Greenwich Village, where I stayed last time I was in the US. Chinatown seemed to have gobbled up more of Little Italy but otherwise, most things were still the same. Bleeker Bob's was still in the village (see photo above) where I also found a couple of great new music stores and picked up the first albums by Band of Horses and Sharon Jones, plus some rare Can and the new Eels B sides collection. Washington Square, sadly, is mostly out of commission until next year, being refurbished, but there was one new addition, the small park on Christopher St (a stone's thrown from the historic Stonewall bar, which seems to have vanished since my last visit) dedicated to gay rights. You can see me sat by one of the two pairs of statues by George Segal in the post above.