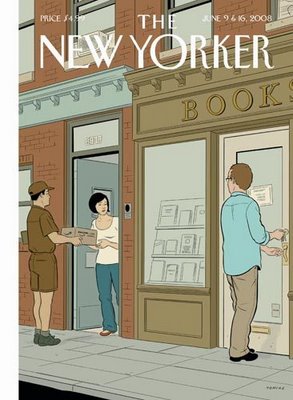 Been too busy to post much lately and today I have a houseful of guests, but they're all at the cricket, getting wet, so here I am. What's new? I love the cover of this week's new New Yorker, which just popped through my door, by my favourite comic book writer, Adrian Tomine (the illustration of it to your right is from his myspace , check it out).
This is a month of clashes. Not that I'm complaining. Better to have two great things to do and have to choose between them than spend every evening watching teams you don't care about on Euro 2008. Last night's was the worst. My MA students were launching their fine anthology, Leap 08 at 7, and I'd agreed to introduce it. Then an invitation arrived to a gala dinner at the council house to celebrate Alan Sillitoe's being made a freeman of the City of Nottingham: the great, the good and half of Nottingham's writers would be there for a big beanfeast with speeches by Alan and John Harvey.
Then, next Thursday, I'm going to the 10th anniversary party of Barrington Stoke, but Fleet Foxes are playing the Social, a tiny venue in Nottingham. It promises to be special. And it'll be ending just as my train gets in from London.
Two Thursdays after that is even more annoying. I'd been looking forward to introducing and interviewing legendary producer Joe Boyd at the Lowdham Book Festival. But Joe had to change dates, and the new one clashes with the night when I have front row seats to see Lou Reed give the penultimate live performance of Berlin, which is my favourite of his albums. So it has to be Lou, sorry Joe. I will however be introducing the fine novelist and biographer DJ Taylor on the Wednesday night, when he'll be talking about the regional novel.
A theme that brings me back to Alan Sillitoe. I went to the council house for the pre-dinner drinks last night and had a brief word with Alan before heading over to the student launch, two minutes up the road at Waterstones. I have to say that this was my sixth one of these and by far the best, with a full house, a palpable buzz, great wine and canapes, and short, pithy readings by half a dozen of the students in the anthology, Leap 08, which also includes prose by David Almond, Graham Joyce and yours truly, poems by Martin Stannard, Mahendra Solanki and John Lucas plus scripts from Michael Eaton and Georgina Lock, nearly all of whom were there last night. A great party. If you'd like to buy a copy of the anthology, for £5 post-free, email me at the address linked to your right.
When Waterstones threw us out at nine, I returned to the Council House in time for coffee, wine and conversation (I also managed to eat two desserts, which kind of made up for missing dinner, though my head's a little thick this morning), catching up with the usual suspects and some people I hadn't seen for years, like former council leader Betty Higgins. Result. Two great evenings in one.