Comic Talk With Aimee Mann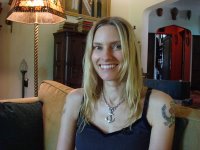 On Tuesday, out of the blue, I got an email asking whether I'd like to interview one of my favourite singer/songwriters, Aimee Mann, for the Star in Sheffield (city of my birth, where half my family live). It's more than thirty years since I last did a music interview so I must have thought about it for – oh, at least half a second. A few hours later I found myself talking to Aimee in LA.
Here's the story as it appears in today's paper.
I've seen Aimee Mann's three previous visits to the city, but it's been a thirteen year wait since the last of these. On the phone from LA, she blames the long delay on promoters and looks forward to playing the Leadmill on the 23rd of this month. She's also pretty pumped up about the presidential election.
'Historically I've been politically ignorant but I'm definitely paying attention. Me and my friends are watching everything, every dumb-ass Sarah Palin interview, trying to pass information to each other because we really, really do not want McCain to win'.
Aimee's new album '@#%&*! Smilers' (no prizes for guessing what @#%&*! replaces) is a steady grower, packed with her classy wry, observational pop songs. She can be as jaundiced and curmudgeonly as the title, but she also writes moving songs with gorgeous melodies. Surprisingly, Smilers features no electric guitars, but I didn't notice this until she mentioned it. The UK tour will do the same. 'I play acoustic guitar. We have two big keyboard rigs along with the bass and drums. The analogue keyboards take over the electric guitar in a real interesting way on the older stuff'.
A lyricist's lyricist, she doesn't start from the words. 'The music comes first. Then the music suggests a tone and the tone suggests a story and the story suggests actual words. Occasionally I have a line that comes with the music and I have to ask myself "hey, what could that possibly mean?" Then I structure it around that.'
After an early hit with her second band, Til' Tuesday, Mann had to wait until the turn of the century for public acclaim. Her songs were used on the 'Magnolia' film soundtrack. 'Save Me' was nominated for an Oscar. Did that make her less cynical about the music business?
'I feel as if I'm not really part of the music business except in a general way. People just don't buy cds any more and obviously I'm affected by that. It's probably going to get to the point where people buy so few CDs that it's not possible to break even. I keep doing what I do and playing shows and enjoying the thing that I do.'
Aimee reckons that major music companies are starting to go for all-in deals that include merchandising rights, so we're likely to see more manufactured groups like the Spice Girls, with the real money coming from selling clothing rather than music.
She is married to the musician Michael Penn, whose fifteen year old son lives with them, but has no children herself. I'm nosy enough to ask why.
'I've never been particularly maternal. I didn't grow up with my mother. I don't know if that was a factor or I was born sort of indifferent. Seriously, I don't think I'm mentally stable enough to take the stresses of time with the kids. That's being quite frank!'
Mann's songs are often compared to perfectly formed short stories, but she has no ambitions to write fiction. 'People ask me if I ever wanted to write a book. I don't have another lifetime to try and master a form and I don't want to write some crappy thing with lousy prose. I hate reading bad prose. I don't want to be responsible for putting bad prose in the world.'
What she would like to do is write comics. She loves writer/artists like Yoshihiro Tatsumi, Charles Burns, Adrian Tomine and Chris Ware. 'It really is all about the writing. My drawing's not that great but there's a lot of graphic novels I like where the drawing's not that terrific. There's an inherent discipline in laying out the pages visually and it takes a long time to learn what works and what doesn't work. I'm not used to writing a long form thing and I'm essentially pretty lazy. I have things started in outline with little thumbnail drawings but I can't really say that I'm going to write a book because I know how hugely distracted I am. It's a long term, very loose goal.'
That's all there was room for, though we also discussed Badfinger, boxing and why she's unable to perform my favourite Til' Tuesday song, 'Coming Up Close', any more (she gets a lot of requests for it but the song's too high for her voice these days). The Leadmill gig is on October 23rd and there are still tickets available. If you see me there, say 'hi'!