Glastonbury Diary 2009 Day 0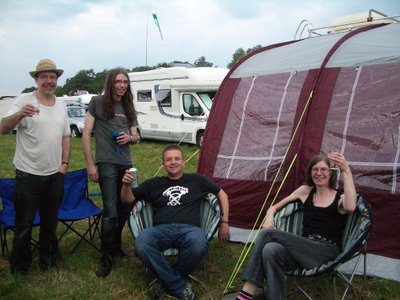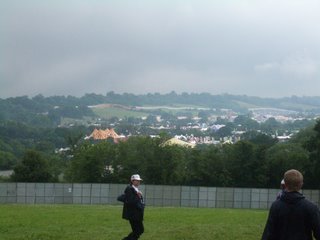 The plan is to set off around eleven but we're on Belbin time (soon to be Glasto time). I'm with sister, Fran (+ her partner, Chris: his first Glasto), and my youngest brother, Rich. They've driven over from Sheffield. The four of us set off at one, following the official route suggested for camper vans (Fran and Chris have just bought a 26 year old Hymer). While waiting, I've read a Twitter friend's account – it took nine hours for him to do the last 25 miles. So we're amazed when, six hours and one pitstop later, we get in to field E11 with no queuing whatsoever. We have a drink, meet the neighbours, put up the awning and tent. And then it starts to rain.
But it stops after a while and we go to have a look at the site. We discover we're a ten minute walk from the festival site. Could be a lot worse. Above you get the picture at dusk. Glastonbury is a constantly evolving city. Basics stay the same – the Pyramid Stage and Other Stage, the vast market area, the Acoustic Stage and Kidz Field, but other things shift, appear, expand or disappear. So it takes a while to orient yourself. Up to four days, for most people. And it's exciting. We get back to the tent at ten to eleven and my partner, Sue, texts me. Michael Jackson has died. If it were just about anybody else I'd think they were trying to start a Glasto rumour (there's always one each year, it comes from being cut off from the real world). But I call her up just as the story is confirmed. Michael was the same age as me and I've been listening to his music for 40 years. His death is a shock but it's not really a surprise – nobody thought he was going to get through those fifty shows.
We go to bed at one. Richard sleeps in the camper van spare bed, so I have the tent to myself. A few vans away, a bunch of posh sounding people are talking loudly. Not irritatingly. They'd probably be good company if I were with them. But I can't get off, and realise I've left my earplugs in the Hymer. I wait for them to get tired. They don't. Then there's a fizzing, electrical sound. What is that? I'm half asleep, but has something caught fire? No, it's light rain, drowning the sound of the party people and soon sending them to bed. I'm grateful, and fall asleep. Waking at five to the noise of a torrential downpour that goes on for hours and hours. The festival kicks off at eleven.