Glastonbury Diary 2009 Day 4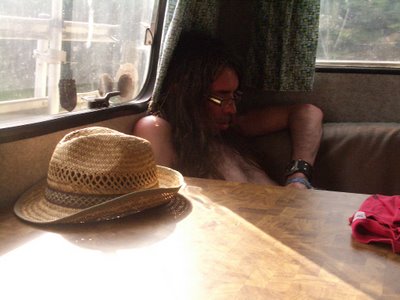 12.05AM. Rich and I lose each other coming out of the Queen's Head. He goes one way, I go the other, but five minutes, two texts and one call later, we're reunited. Fran and Chris are off buying presents for my niece and nephew but rejoin us at half twelve. Amidst the steadily growing crowd of young folk gyrating round their handbags, we dance to Motown, then decide to return to the camper van. No security queue to get out this time and no urge on our part to head over to Trash City and the like. Which is a good thing, because at one, just as we're all sat down inside the Hymer awning with wine, hipflask etc, the heavens open and a huge downpour begins. Poor sods who are still out there will have been soaked. We drink and talk until it's over, then I spend my last night outdoors.
In the morning, the queue to get out of the field is as long as it was at 1am, but we join it at 1.10pm and by ten to two we're out and away. The camper van experience might involve a lot more walking but it's also a lot more convenient in terms of access and shelter. Fran, heroically, drives for hours before the camper's out of petrol and we stop for scram at Warwick services around six. Then Chris drives us the rest of the way. Rich sleeps nearly all the time (see above), while I devour the entirety of John Niven's hugely entertaining Kill Your Friends, which I pass on to my siblings. In Sherwood, at half eight, we sit in the garden with a pot of decent tea, four very smelly but very happy people.
Glastonbury, there's nothing like it, and this year's line up could have been made for me. Three and a half days later, I'm recovered from the post-fest jet lag. Next year is the 40th anniversary, but I'll probably watch it on the telly, as I do most years. For this year's will be very hard to beat. 'Best Glasto ever', Michael Eavis says, as he normally does. This year, I'm inclined to agree with him, as are the other people I know who went. Thanks to Fran and Chris for driving, and Michael and Emily for organising it. That's it on here for a while, but you'll find me regularly on Twitter when I have something short to say. For now, though, I have a couple of books to write. Have a good summer.