Writers Respond: David Hockney and Frances Stark @Nottingham Contemporary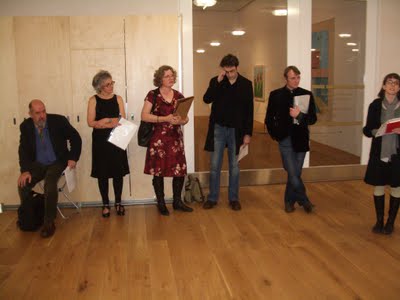 I made my second visit to the new Nottingham Contemporary gallery this week and it confirmed my impression from their opening party. It's a very intelligent use of the available space with good sized, interestingly shaped galleries and some interesting, quirky aspects. In the high winds, the path up the hill it is carved into was closed off. A shame. I still haven't seen the outside properly in daylight, but that's November for you. Over 6,000 people visited on their first weekend, with massive queues, so it looks like the place is already a hit with the people of Nottingham.
I was there for the first public event at the gallery, which, I'm pleased to say, was a poetry reading, with the poets Gregory Woods, Carol Rowntree-Jones, Sue Dymoke, Michael McKimm and Wayne Burrows. I snatched a photo of them (in that order), with organiser Eirannn Lorsung, just before they began. They were reading new work inspired by the two exhibitions, of early Hockney and Frances Stark (that's 'Frances' with an 'e', The Guardian, which makes her a 'she' rather than a 'he'). We moved from one gallery to another while the poets read work relevant to each artist. It was really interesting, enjoyable stuff, and I hope that the work gets published somewhere, soon.
There are plenty of other events at the gallery, most of them free. Further info here. Note that, so far, all of the events have sold out very quickly. Tomorrow's, with Michael Bracewell and Andrew Wilson, is fully booked, and the other one I'm going to, where Pauline Lucas will talk about The Midland Group, is waiting list only.