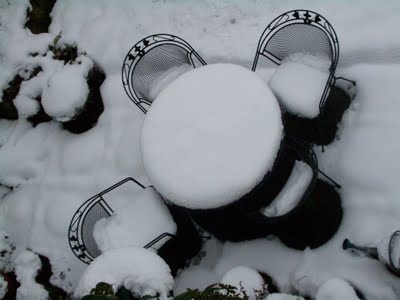 Every year for the last 21 years, we've sent a CD or cassette containing our favourite music of the year (strict rule, it has to be from the last 12 months) to our music loving friends, and if you're one of them, you might want to look away from this blog until your copy arrives. We start posting them Monday, to catch the last post to Canada, China and (hopefully, Nicola!) Australia. For the last few years, I've also posted a few sleeve notes on this blog, writing one a day up to new year. I'll be posting every day, except when we're away. So, without any further ado, let's begin.
1. The Fear – Lily Allen
Dislike for her dad, combined with endless copyists, left me rather cold to Lily Allen until I heard this song. A net buddy urged me to check out the album. At first I thought it was a fun, play it a couple of times, lyric dominated thing (I mean, I like The Streets, but you can only play each album a handful of times, so how the Observer can make their first the album of the decade is beyond me). But no, it's the pop album of the year. This was confirmed when I saw her at Sheffield Academy a couple of weeks ago. Despite a two month sore throat, Lily put on the kind of show that most acts can only envy, with a young, mainly female crowd singing along to all the big numbers. There are still standing tickets left for her Nottingham Arena show on Thursday and I'm tempted to go again, that's how good she was. This also has an outstanding lyric, even wittier and more apposite than the next lot, which is saying something.
2. Love Etc – The Pet Shop Boys
'Yes' is the most consistent Pet Shop Boys album in more than a decade and this, the opening track, deals with the same areas as Lily Allen (celebrity culture, the shallowness of a life ruled by looks and money) but at a sardonic distance. With a catchy tune.
3. Periodically Triple Or Double – Yo La Tengo
I have a confession to make. Like the singer of this song, I've never read Proust. Indeed, when I did my undergraduate dissertation I remember describing a Brian Moore narrative technique as 'Proustian' and Tom Paulin saying, 'have you read Proust? Then how can you call it Proustian?' I cut the line. 29 years later, I'm saving Proust for retirement. Only, lucky writers never retire. Oh well. I think I've seen Yo La Tengo once (Glastonbury 2003?). I got this from a music blog and it persuaded me to check out the album it's from, Popular Songs' but, so far, I've only played it once. This track, anyway, is a joy: witty, catchy, just a little silly.
4. Empire State Of Mind – Jay Z featuring Alicia Keys
Don't listen to rap much. Since Public Enemy kicked off our 1989 tape, there have probably only been a handful of rap tracks on our compilations, the last being Eminem's 'Stan' (another confession: I've had the new Eminem album all year and haven't played most of it yet – whenever it comes up in the autochanger, I move it on). We saw Jay Z do this on 'Later' and were knocked out. It's even better with Alicia Keys singing the chorus. A joyous, energising, gorgeous piece of music. I was hoping that Jay Z would show up onstage with his wife Beyonce a couple of weeks ago in Nottingham, as he did in London. But he didn't.
5. My Girls – Animal Collective
The NME has just listed its fifty tracks of the year and five of them are on the cd (1, 4, 5, 6 and 14, plus different tracks by the artists at 6,14, and 17). This chunk of ecstatic pop psychedelia was the highlight of the set I saw them play at Nottingham's Rescue Rooms back in the spring, and is from their outstanding album 'Merriweather Post Pavilion'. I'd say more, but it's been a long day. In the NME list, Jay Z is at number 6 and this is at number 5.
6. Bulletproof – La Roux
An irresistable slice of electro-pop, La Roux made one of the best albums of the year, and this is the highlight. Live, she was disappointing: no charisma, no stage presence (and no auto-tune, which made her high, wavering voice a bit wearing at times). We also had a long wait to see the shortest set I've ever seen at Rock City (even shorter than New Order's second gig, all 47 minutes of it back in 1982). But our cd's all about this single, which is a corker.
7. Klaus Kinski – Luke Haines
Where to start with Luke Haines? I was trying to find a word to describe him: enigma, genius, major talent – nothing quite fits. The nearest is the overused 'maverick'. Last year, he laid it all out on a plate in a hugely entertaining Britpop memoir, Bad Vibes. Reading it, you can easily see why, despite almost winning the inaugural Mercury Music Prize, he and his bands never made it huge. 'I was all over the 90's. I was all over in the 90's,' he sings in the title track of his latest album (which comes with a bonus 'story' disc, yet again taking the piss out of Britart: it's a good one play item). As somebody who was big in the 90's (in his own small field, Brityaf) I can relate to that. But that track's too long to fit on the CD and I prefer this one anyway. It has a gorgeous melody and more mystery than bile. Technically, by the way, the chorus line, 'Klaus Kinski went back to Germany after the war' is wrong. Kinski didn't adopt his name until 1947. Nikolaus Karl Günther Nakszyński returned to Germany after the war. Before that, he was interred in Colchester.
8. The Roll Off Characteristics (Of History In The Making) – Cornershop
This Leicester band hardly ever tour and disappear for years between albums. Actually, this year I happened upon a great album that they'd made under a pseudonym (Clinton) and completely missed. I'm not averse to pseudonyms, but obviously I wasn't paying close enough attention. Their new album, 'Judy Sucks A Lemon For Breakfast' is a corker, and soundtracked my summer. How to explain Cornershop if you don't remember 'Brimful Of Asha'? They've got rather more frantic since then, mixing Bhangra, soul, rock and psychedelia (this year's big on psychedelia – I'm coming round to the Flaming Lips' 'difficult' "Embryonic", but it doesn't feature here). Tell you what, take a look at the official video for this song. It's rather good.
9. Knotty Pine – Dirty Projectors featuring David Byrne
The Dirty Projectors' addictive album 'Bitte Orca' was a late night favourite at Glastonbury after the bands finished this year, but this track gives me the chance to plug the fine benefit album 'Dark Was The Night' (new tracks from favourites of mine like Spoon, Arcade Fire, The National, Bon Iver etc, well worth buying as an xmas pressie) and mention one of the contenders for gig of the year. We had front row seats for David Byrne at the Royal Concert Hall, playing a set composed entirely of his work with Brian Eno. Being in the front row gave us not only a close up view of Byrne and his fantastic dancers, but also a bit more room to dance ourselves, as classic followed c
lassic. Burning down the house indeed.
10. Let Your Love Grow Tall – Passion Pit
There are, of course, lots of songs I'd like to have put on this cd but didn't have room for. Regulars Bob Dylan and Lyle Lovett had albums out this year, but neither made the cut. Both will doubtless send me friendly emails tinged with mild regret. There's a song on the Dave Rawlings Machine album called 'It's Too Easy' that I love, but what I really love is the slow, live version where Gillian Welch takes lead vocals and I don't include live songs (with one, very carefully edited exception). Why? For the same reason that I only do one disc. You have to have rules. And you have to have new stuff that won't be familiar to your listeners. Which is why I went for this fantastic pop track, reminiscent of a more frantic MGMT, from Passion Pit, who I know nothing about. Then I was watching TV last night and the BBC xmas trailer came on. Guess what song soundtracked it?
11. In My Dreams – Eels
I love The Eels, which basically means 'E'. Last year I saw them (him, with one accompanist) for the third time, and it was the best show I've seen him do. Boy, is he prolific. This song could have come from any album since the pre-Eels solo albums he put out as a man called 'E'. It's Beatlesish, in a uniquely self pitying way. But it's actually from an album called 'Hombre Loco', which – in these rapidly accelerating times – feels like it came out five minutes ago. Today, I got an advance copy of the new Eels album, which is out next month. On first play, it sounds exactly like the last one, and the one before that. Not that that's a bad thing. OK, it is a little odd.
12. Funeral Singers – Califone
I love MP3 blogs too. My favourite remains the wide ranging, wonderfully written Said The Gramophone but I follow loads through an aggregator, which is why I can't remember which particular blog I found this song on. I've enjoyed songs by Califone before, but never sought them out, until this blew me away. I immediately bought the album it's the title track of, 'All Of My Friends Are Funeral Singers' (the promotional angle, by the way, is why most record companies tacitly support MP3 blogs, which only tend to keep songs up for a few days). The album didn't disappointed. It's a ghostly, gentle, guitar-based collection that carries you along its journey, not a weak track on it. 'Funeral Singers' remains the highlight, a moving, melancholy song with a faint country bent that has a particular resonance for me this year.
13. Cry – Slaid Cleaves
As does this one. We've long been fans of Slaid Cleaves, since 'Broke Down'in 2000. He plays The Maze in Nottingham often and I usually get him to sing 'Lydia', while Sue persuades him to do 'Breakfast In Hell' if he's with a band. His new album 'Everything You Love Will Be Taken Away' is the first to outstrip 'Broke Down', an album full of songs about love and mortality, of which this is the title track. I've had this album for several months, but I still can't get this song out of my head. A classic. Here's a live version.
14. Cornerstone – The Arctic Monkeys
'Oh, this sounds like a slow one' said the bloke behind us at the Arctic Monkeys' recent Nottingham Arena gig, and proceeded to talk through the best track on 'difficult, third album' "Humbug". Live, the Arctic Monkeys last banter and set structure, but this song, with its intriguing lyric and earworm melody, is a winner. Forgive the delayed post. We're just back from 36 hours in London, where we fitted in delivering an honorary degree, lunch with an old friend, three exhibitons (highlight, the Turner Prize winner and Alan Bennett's terrific play, 'The Habit Of Art'. Not bad going.
15. Hey Rider – The Band Of Heathens
I went to see The Band Of Heathens back in June because James, the promoter, raved about seeing them in Austin, Texas. So I dragged Sue and David Almond along to see a fine show at Nottingham's Maze. Their songs have shades of The Band, Little Feat and more recent Americana. On the new album, 'One Foot In The Ether', their sound becomes more distinctive, particularly on this track, which closes the album. It's a fragile ballad that could be about the American civil war. A long song, but time seems to disappear while it's playing.
16. What Are You Like? – Indigo Girls
Been a big fan of the Indigo Girls since seeing them support 10,000 Maniacs in the last 80's. We usually get to see their tours. This year, though, I had a freebie to see Elton John in Sheffield the night they were on there, so had to pass. Only Elton cancelled at the last minute. Driving back to Nottingham, as I entered my third hour in the car, I realised that I could have gone to The Plug to see the IGs, instead, but had forgotten all about the gig. Oh well.
17. Night Time – The xx
I've already written about The xx below and the news about them is clearly starting to get through. They were on one of the two best of year cds that popped through our door this morning. I've got a compressed nerve which makes typing awkward, so I'll leave writing up the last three songs until after boxing day. A merry christmas to one and all.
18. Halo – Beyonce
Earworms are songs that creep up on you and lodge themselves in your consciousness like permanent elevator music. Surprisingly few songs affect me this way. 13 and 14, certainly, but they were welcome guests, so hardly worms. Beyonce's recorded output I'm more ambivalent about. After enjoying 'B'Day' and being blown away by her live show last year, I happily paid for front standing to see her again this year and acquired 'I Am Sasha Fierce'.Can't say I played it much. Lead single 'If I Were A Boy' seemed calculated, overwrought (worked great live though). Whereas this slow one crept up on me. I remember arriving in Krakow last May and having to hear it. Twice. She closed this year's show with it. Great love song. Not sure if it's a classic, but it's definitely an earworm.
19. Everlasting Everything – Wilco
Wilco have been one of my favourite groups since I picked up a copy of 'AM' on our first trip to the States in 1992. From their alt. country origins, 18 years later, they seem to have turned into Abbey Road era Beatles. But, hey, with songs as beautiful as this (check out an acoustic version by lead singer and songwriter Jeff Tweedy here), I'm certainly not complaining.
20. Lullaby – Leonard Cohen
Endings are tough. At one point, Beyonce came last. Bruce Springsteen's lament for his departed keyboard player, Danny Federici, would have been a good if gloomy way to go and would have marked my getting up close to Bruce one last time at Glastonbury. Instead, I chose to break one of my self imposed rules (all stuff from the last year, nothing live). I've finished with a beautiful live recording of a song that I hope will be released next year. I like the way it shares a title with the Aimee Mann song that closed last year's compilation, which also had a spoken contribution from Aimee herself (sorry, didn't manage this with Leonard). Since I saw Leonard twice in 2008, he's started including a couple of new songs in his sets. This is my favourite of them, a lugubrious goodnight kiss that would have fitted
easily onto 'Ten New Songs'. It holds out plenty of musical promise for the new decade from young, old and middle aged alike.
A happy, healthy, happening new year to all of my readers.