Glastonbury 2000 part 3 – Friday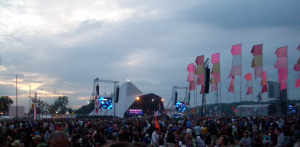 Here's the third part of my tenth anniversary repost of the Glastonbury journal that appeared on my old website ten years ago today, with four relevant mp3s to download at the bottom.
PART 3 – Friday.
Most common sound heard at Glasto after a mobile phone rings: "Hello, Mum."
It rained on and off in the night. I gave up trying to stay asleep at quarter to nine, made myself a cup of tea. I had a Frusli bar for breakfast (boring but nourishing). I put on my wellies and my heavily mud spattered Diesel jeans, then went for a wash and a pee before setting off for the Welfare tent, a long trudge away. I got there early and waited while head of Welfare, Mary Treacy , a forty something woman whose real job is at the British Library, did the rounds of her workers.
I'm not at my most articulate first thing in the morning, especially when I've had little sleep the night before, but I discovered that very few sixteen year olds come to the festival (as in my novel synopsis) and where they'd end up if they get separated from their friends. Most problems are about people failing to meet up but "It's a kind place where lots of people do help." A lost, abandoned young person might well end up sleeping in the Wagon Shed a.k.a. The Welfare Office (where you can also get free condoms and wet wipes, the latter proving very popular when it's hot, which doesn't look like a problem this year.) and leaving the festival early.
Heading back down the steep hill, I see the flush loos, which have queues thirty to forty feet long – full of middle class children who can't bear the thought of having to wipe the seat first and putting up with a bit of a smell (I say that now, as a Glastonbury bog veteran, but at the time I was tempted to use one myself… until I saw the length of the queue). Scally thieves and a few old hippies aside, the festival does seem a very middle class place, which makes for less interesting material for fiction. It wasn't always like this. Here's an extract from an e-mail sent yesterday by my cyber buddy, Hank, who's the same age as me.
"I got to almost all of the Glastos throughout the 1980s but they became less and less fun and more and more scary.
"The last one I attended – 1989? – was the crunch one. Stalls were being held up at gunpoint, I had some stuff stolen from my tent (while I was in the fucking thing!), there was about 300 acres of knee deep mud, coke cans and paper plates, I was avoiding drinking any fluids and trying to bung up my system with white sliced bread and hard boiled eggs so that I didn't have to go anywhere near to the toilets from Hell, there were scary looking dudes in ski masks selling sensi everywhere… Final straw was on the Saturday night walking past a hire van that had become stuck between the Main Stage and the Second stage on the Friday. It had been increasingly vandalised throughout Friday and Saturday but someone had torched it. There was a crowd of about 200 people standing round it chanting… It was like Lord of the Flies, I swear. I packed up that night and left never to return."
In today's NME, there's a reminder of the festival six years ago, when somebody was shot while Elvis Costello was playing – there was more shooting outside Joe Banana's, today a stone's throw from where I'm camped. From what I read, things changed dramatically three years ago, when Michael Eavis invited the police in. Not that they seem to do a lot. I asked two bobbies what I should do if somebody tried to break into my tent while I'm in it again and they don't have an answer. They suggest that I camp with friends and we keep an eye on each other. Hmmm.
I go to see Wailers, who are tremendous, the ideal openers. They have a Bob Marley sort of look and soundalike who does a bunch of the hits. I've got a good spot, central, in front of the mixing desk but what really makes it is magic is that, as they play, the dark clouds leave the sky and bits of sunshine poke through. The weather forecasts have been contradictory. Fair to good Friday and Saturday says the Glasto people, more dodgy Sunday. The Guardian says the opposite. But it looks like today, at least, might be a nice day.
Afterwards I go back to my tent for lunch (great rolls, Sue!) and a snooze. Then I abandon my wellies, put on my Timberlands and head over to the Acoustic tent to see Matthew Jay, a fresh faced twenty-one year old Welsh singer/songwriter who one of my (potential) characters is based on. Get there early and see most of Nearly Dan's set – so far all I've seen is tribute bands! They sound OK but don't make any attempt to look like Steely Dan, who I saw a few years ago. They even play a number ("Cousin Dupree") from the new Dan album. I lie on the grass and doze off during "My Old School" then wake up in time to photograph Matthew Jay, who is saying hello to mates in the crowd.
To my surprise, he has a band. And fans. More fans by the end, but the Acoustic tent is nowhere near full. Several adoring looking seventeen year old girls are pressed against the front fence (as am I) by the end of the set. He's good. Very nervous and smiley at first, but, in twenty-five minutes, he does most of the songs off his two EPs and brings on his brother to play squeezebox on the last number. "You're photographing me so I'm going to photograph you," he says, and does. If he was American, he could be Elliott Smith, who he sounds akin to. Still, Wales is hip this year. Maybe he'll make it big. As I'm coming away from the tent, two new arrivals are tramping down the path, rucksacks on back. The woman drops a denim jacket and doesn't hear people calling out to her, so I pick it up and leg it over to them. Me. "Here, you dropped this thirty yards back." Her. "Oh, that's brilliant. I've had this jacket since I was sixteen. Thanks." I walked off with a little wave and the bloke called out after me, jubilant, "Hey, Spirit of Glastonbury, maaan!"
I meet my neighbours, a nice bunch of twenty somethings from Yorkshire and Lincolnshire who want to know what my Radio 1 yellow security sticker is, so I explain about the previous night and how the police claim these postcoding stickers put burglars off. Then I go on to do Green Fields – a vast area of craft stores, cheaper, more veggie food, lots of kids' stuff and various strange stages (I saw the underground one being built, but never got back to see a performance there). In one tent I watched the end of the performance by Katakitsi, a drum band from Ghana, while waiting for the urn to come to boiling so I could get a mug of tea. Never got the tea, but the group were excellent, far superior to the mogadon sounds of Ladysmith Black Mambazo on the main stage the following day. I try to find some nice jewellery for Sue, but fail. It's clouded over a bit and keeps threatening to rain, but doesn't.
I explore the kids' area where there's a huge wooden assemblage to play in called "Rainbow Warrior" and a solar powered tent where you can evidently have hot showers, but you have to take off your shoes before having a look and I'm too bashful. There's a trampoline, a skateboarding ramp, a spray painting grafitti area, a gigantic dragon made out of pine branches, as well as flying pigs, cows etc. you could easily get lost her. Coming under one of the permanent stone bridges between fields, there are multicoloured pads on the floor and weird music playing. Got to use that somewhere.
I get back to the Acoustic tent half an hour before Priory of Brion come on and secure a good spot just before the crowds arrive. It's an open secret that they are Robert Plant (of Led Zeppelin)'s hobby band and the place is heaving, impossible to get into, by seven, when they come on stage. It's a great atmosphere. I'm surrounded by microphones held high (even taped a couple of numbers on the Dictaphone myself – their version of "Bluebird" is playing as I type.) They play West Coast psychedelic rock, opening with Love's "A House Is Not a Motel" then something else and another Love song from "Forever Changes", "Bummer in the Summer". Tremendous. Buffalo Springfield's "Bluebird" segues into a gorgeous "If I Were a Carpenter", which I once saw its author, Tim Hardin, sing in Colne Muni. The second encore is a riveting version of Tim Buckley's "Song To The Siren". "I hoped it'd be like this," Plant said in the middle of the set, "and it is."
Nothing could follow that really. Heard a bit of the Counting Crows as I went back to my tent for supper, but wasn't tempted. I'd decided to give the Chemical Brothers a miss, quite wanted to see Moby, but didn't fancy it in the vast field in front of the Other Stage, so headed up to the New Bands tent – a very long hike – where Badly Drawn Boy were playing, lots of people sat outside. I bought a pint, didn't bother going in. I like a couple of his things, but the music sounded clunky and dull to me. He kept mentioning his new album and whinging about people not buying one of his singles – not very spirit of Glasto. As soon as he finished, I went in and got a good spot for Elliott Smith who, despite overlapping with Moby, had a huge crowd. I've bought a couple of his early things and not been impressed, but the tracks I've heard from his new album are excellent. He opened with "Son Of Sam" and, as soon as the sound sorted itself out, put on a corking performance – very Beatlesy, melodic pop with intelligent lyrics. He's got more stage presence than I'd been led to believe and a good band. Very enjoyable.
As are Black Box Recorder, though most of the crowd has left by then. I tried to get a drink between sets, but the crush to get downhill to see the Chemical Bros was such that it completely blocked off the bar. I like Black Box Recorder, though not as much as The Auteurs, Luke Haines' previous band. They're a consciously ironic pop band and Sarah Nixey's performance is very knowing and po-mo. She wears a skin-tight white jumpsuit made out of what looks like vinyl (latex, NME says) and it's hard to take your eyes off her, especially as the rest of the band look boring. She has her admirers in the smallish crowd and they play all the best songs off both their albums, encoring with a fine version of Bowie's "Rock 'n' Roll Suicide". You couldn't ask for more. On the way back to my tent I get caught in the queue of people leaving the Chemical Brothers. No sign of Tank.
Matthew Jay – Four Minute Rebellion
Robert Plant – Song To The Siren
Black Box Recorder – England Made Me