Glastonbury 2000 part 4 – Saturday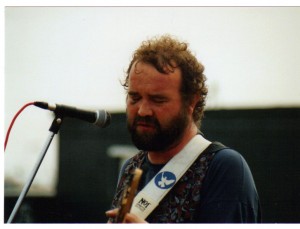 No more rain, so I put on my clean jeans. I'm meant to be meeting Tank, my brother from York, at midday behind the Pyramid stage mixing desk, presuming he's arrived, but, first, I fancy seeing John Martyn, as does my neighbour Helen. Unfortunately, despite knowing about my experience yesterday, my neighbours were robbed in the night, stuff taken from someone's trousers as they slept – twenty quid and a mobile phone. They've gone to get yellow security stickers, but it's too late, really. They were in the tent when it happened, but, like me, slept incredibly heavily last night (it was much less noisy, which helped) and noticed nothing.
There's someone playing on the Jazzworld stage, but it isn't John Martyn, who's cancelled. I have a latte, which tastes like the coffee in it has been expressed through ditch water, then head over to look for Tank. I'm a couple of minutes early and there's no-one there, so I go back to the tent. A bloke in a leather jacket has been crashed out alongside my tent since I woke up, phone in hand. I take his photo, hoping he's alive. A couple of minutes later, his phone rings and he answers it. Turns out that today is his birthday.
Ladysmith Black Mambazo are playing. Like everyone else, I came across them when they played on Paul Simon's "Graceland', even bought a couple of albums, cheap. But they still sound exactly the same as fifteen years ago and are, I've finally decided as I walk back over to the mixing desk, rather boring.
I nearly miss Tank and his crew, pessimistically thinking something will have gone wrong, then notice the whole posse right in front of me, sitting around, taking it easy. Introductions are made, photos taken. Two of Tank's friends paid to get in – a fiver to go in a tunnel which led into a tent (it's later announced that there'll be a million pound ring of steel to prevent this next year). Tank and the others used a branch to jump the fence. They arrived in time to see Moby, who was evidently great (unlike the Chemicals who, according to my neighbours, you'd have been better off watching on TV. Far too quiet and you never saw the band once.). A later look at the videotape confirms this judgement. And to think I could have seen him in the (tiny) Leadmill six months ago for eight quid…
It's nice to have company after two days more or less on my own. We stand up and get a spot where we can see properly. Next on the Pyramid stage are ADF (Asian Dub Foundation), who I've never quite got before. But, dancing to them in the sunshine, they make compete sense. It's heavied up bhangra music (which I used to listen to in the Eighties) with English lyrics and a reggae bass. Very good it is, too.
Everyone fancies a beer, so we go along to the one decent beer tent, the Camra/Mojo one outside the Acoustic tent. "It's Jo and Danny" (whoever they are) play soporifically in the background. Then Tank, Coral, Simon and I go over to the Common Ground cafe (a big wooden house nearby) for chicken cous cous, which, Simon points out, is made with canned vegetables. But it's alright, my only hot meal of the weekend (OK, lukewarm). I go back to my tent for a sleep, waking up just in time to catch Hank Williams III, who looks just like his granddaddy and sounds like him, too, at least for twenty minutes. Then he turns into a hardcore thrash country merchant, playing one song with a title too crude to appear on a web site aimed at teenagers. He's probably great, but I was a bit too groggy to make a considered judgement.
Tank and I go see Elastica, who are dreadful. No stage presence. No crowd reaction. They had half a good idea five years ago and haven't had another one since. We leave before the end, but then return for Death In Vegas. If I'm honest, I'd probably have preferred the Pet Shop Boys, but I saw them a few months back, so it's no big loss and DIV are pretty good. I'm not up for Leftfield, tho, not standing outside in the cold (I've seen them at Rock City, where they were great). Tank's tired, so heads back to his tent for a rest. I head off to try and track down the Avalon stage, where John Martyn may or may not be playing.
It takes a while. At night, the Avalon area has a kind of magic which I'd missed earlier. If Glastonbury was a city the size of New York, this would be where the East Village meets the West Village, if that makes sense to anyone reading this. John Martyn's onstage when I get there, with very tired feet (me, not him). At first I have to stand outside, but soon worm my way in and, by half way through, have a pretty good spot. Martyn's on good form, playing mainly numbers from his last two albums, which wouldn't have worked in the morning (when he just failed to show up, according to the info desk) but are a treat late at night. He throws in "Solid Air", a beautiful "One World" and "Johnny Too Bad" as an encore, playing for at least an hour and a half. Musically, he saved the day, since ADF was a good twelve hours earlier and nothing had knocked me out since.
At the tent I'm kept awake by a drunken bozo who's joined my neighbours in the next group of tents. He's invented a new drink: red wine and vodka and is demanding unconditional love from his friends, the way drunks and little children do. I put in my earplugs and read a newly discovered short story by Raymond Carver, one of my favourite authors, one he forgot and never edited or rewrote. It's fascinating because it's not very good. There's a really good quote in the introduction, something like "I'm never happier than when I'm taking words out of a story". That's a real writer speaking.
At this point, I feel like I should apologise for the longwindedness of this journal but what the hell – if you find me too longwinded you won't have got this for. Journals are meant to read like first drafts, which this more or less is (some of it was tape recorded first). If you want to read my considered, edited view of Glastonbury, you'll have to wait for the novel (if I get to write it).
On Sunday morning, the first person I bump into is one of my neighbours. I have a brief chat with him – a charming, rather witty bloke. It's only after a a minute that I recognise his voice and realise he's the drunken bozo from the night before.