Lyle Lovett at Massey Hall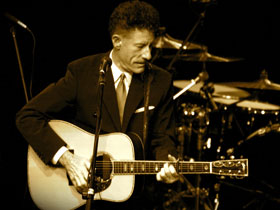 I've been a fan of Texas born singer-songwriter Lyle Lovett since 1986 and had tickets to see him four times. Unfortunately, for myriad reasons (schedule conflict, death in family, poor ticket sales) three of those shows were cancelled, so I've only seen him the once, opening a double bill with Mary Chapin Carptenter. He was great, but it was an arena, and he only played an 80 minute set. So when I saw that he and his large band were playing Toronto while we were there, I had to get tickets.
Massey Hall is a beautiful old venue with legendarily great sound and (we discovered) legendarily uncomfortable seats, half of which seemed to be broken. However, this worked in my favour as the man mountain in front of me, whose head and upper torso blocked my view of the centre third of the stage, decided to move just before the show began, giving us a great view.
And what a show! More than two and a half hours encompassing Lyle's entire 24 year repertoire, beautifully structured and performed by various combinations of his amazing, long time band (him + 10 musicians and 3 backing singers). They included bass player Leland Sklar and drummer Russ Kunkel, both of whom I've been listening to since 1970 when they played with James Taylor and formed instrumental group The Section. I'd've paid good money just to see any band with those two in it.
For more than two and a half hours, Lyle took us through a tour of Texas swing, aching love songs and his genteel yet laconic, intelligent introductory patter, including a lot of jibes about being stopped at the border and a little lecture about horses and the Iraq war before the title track of his new album Natural Forces. My favourite moments were probably a couple of ballads, Townes Van Zandt's Flying Shoes, an unplanned encore added in response to an audience request (which he had earlier politely declined: 'we do have a plan, sir, but if I can find a way to fit it in…') and this mp3 of the week (a little earlier than usual, as I'm on the road), from the  new album, a cover of another Texas writer, Eric Taylor, who first recorded it on his self titled 1995 album. If you've never heard Lyle Lovett sing, check this out. He has one of the best voices I've ever heard.