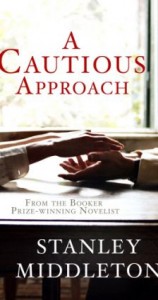 Summer's in retreat but I still managed to spend most of  my last Nottingham Sunday afternoon in the allotment, reading Stanley Middleton's final novel A Cautious Approach. Meticulously edited by Philip Davis, it brings to an end the 45 novel career of my old friend. Odd, for the first time, not to be able to discuss it with him afterwards. But odder still that, for 13 years, I was able to talk about novels with a writer 40 years my senior, one who I read with huge admiration before I'd begun to seriously write myself. The new novel is beautifully written and, as so often with Stanley's novels, contains unexpected scenes that shift your perceptions of the characters. Like nearly all of his novels, it's set in Beechnall, his fictional version of Nottingham, but Stan never lets cosiness creep in with the familiar setting. At 88, he could still write a sex scene at no risk of troubling the 'Bad Sex' awards and throw in a natural sounding 'Oh fuck' from a tightly buttoned lawyer. Admittedly, his characters, while ostensibly living in the present century, don't seem to have heard of mobile phones, but readers who think that his main virtue was naturalism are missing out, as Alan Massie points out in a perceptive Scotsman review of the novel.
Here are the other books I've read over the last few weeks. Or, at least, the ones worth recommending. All but the first are novels.
John Lucas – Things To Say (Five Leaves – a fine collection of new poems)
Jonathon Coe – The Terrible Privacy of Maxwell Sim Much better (and more typical) than his previous novel but falls off
Ray Robinson – Forgetting Zoe Great stuff. See my Amazon review
Louis Sachar – The Cardturner A great novel about bridge. A story for another time – I was a teenage bridge prodigy (sorta). This book, by the author of Holes brought it all back
Nicholson Baker's The Anthologist is to poetry what Sachar is to Bridge. Wonderfullywell written, opinionated, provocative, a book to be savoured and debated with poets and non-poets alike.
Ian McEwan – The Innocent Rereading a novel is a rare treat. Admittedly we only got this because Waterstones were doing it for a penny with a  half price copy of the so-so Solar. When this came out, 20 years ago, I remember being offended by how conventional a novelist McEwan had become after the fine start of his first three books. It now looks like a turning point in his career after the failure that was Black Dogs. The most memorable long scene is reminiscent of his early, quite shocking short stories and the sex is better than On Chesil Beach but in many ways it's a conventional thriller, with a terrible ending that ties up far too many loose ends and also demstrates the tendency to overcontrived, unconvincing endings that marred later novels such as Saturday. That said, I still look forward to rereading his two great novels Atonement and The Child In Time to see if they stand up to my initial high assessment of them.