Summer Reading Part Two (with a song to the siren)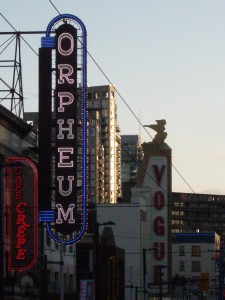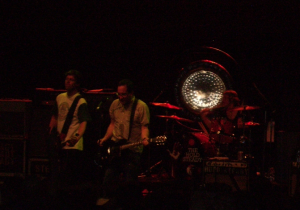 Above are the promised photos from inside and outside the Hold Steady gig in Vancouver. Below is an early version of Tim Buckley's 'Song To The Siren', a bonus track from the compilation Morning Glory. I first heard this song (like most people of my generation) on a single by Coctea Twins' spin-off This Mortal Coil, which is lovely, but is more about the sound than the lyrics. The version that turned me onto is was the one played live by Robert Plant's Priory of Brion (the band never made an album – the version I heard at Glastonbury was far superior to the over arranged one on Plant's subsequent Dreamland). I was never a big Buckley fan, maybe because the only album anyone had when I was younger was the stodgy Greetings From LA. However, while I was in Canada, an early version of the song (with slightly different lyrics), as performed on the Monkees' TV show, appeared on iPod shuffle, and I found myself earworming it, then replaying it obsessively. I was a big fan of the Monkees show when I was a kid, so I guess I must have heard this when I was ten or so, but I have no idea what I would have made of it then. The original version on Starsailor is more like the one I heard Plant play and well worth seeking out. You can also watch the Monkees show performance on YouTube.
Tim Buckley – Song To The Siren (solo version)
I've now finished the books I took on holiday with me, the jetlag having cleared enough for me to polish off Richard Price's Lush Life, which I'd been saving since Christmas. It's the first Price novel I've read since Clockers and is equally fine. The publicity makes much of his connection with The Wire which I can see. He's good on the ghetto characters. But the vivid style, the terrific pace and, most of all, the exquisite rhythm of his prose remind me of one of my great writing heroes, the late, great Ed McBain.
Praise doesn't come much higher than that, but Truth by Peter Temple takes the crime novel to another level. This won the Australian equivalent of The Booker prize and ought to have been a contender for that prize here, but was overlooked (see next para). Again, this is primarily a cop novel, but what a broad sweep… it's long and demanding, with not a word wasted. Temple deals with politics and the compromises that people have to make with a cold, clear eye. As with the Price, at its heart is one casual murder and the stories that it sets off. One I know I'll reread and learn from.
I polished off Hilary Mantel's Wolf Hall in four days, as did Sue. I wrote a historical novel about this period once, though it was less than ten percent of the length. Three weeks to write it, but three months to do the research. So I know what a magnificent achievement Mantel pulled off. It's a riveting read and I look forward to the sequel. That said, it's not in the same league as the Temple novel. Why are historical novels so much more respectable than crime novels? Answers on a postcard to John Sutherland, chair of this year's Booker jury, who said that putting a crime novel on the shortlist would be like entering a donkey for the Grand National.
Finally, a very short, pocket sized book. I used to love reading William Kotzwinkle when I was a teenager (his adult stuff, though he wrote books for kids too, and an adaptation of the ET screenplay) but hadn't come across his novella about a couple and their still born child, Swimmer In The Secret Sea until Five Leaves reissued it recently. An exquisite, heartbreaking read.