The Hold Steady at The Vogue, Vancouver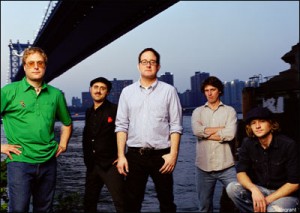 The Vogue is a lovely old restored theatre in downtown Vancouver and when we get home I'll put up some shots Sue took of the place and the band. We got there ten minutes before The Vogue's Facebook told us the band were onstage and were warned there were no passouts. The guy on the door insisted on opening and smelling my water then let me take it in. You were allowed to drink in the theatre, but £5.50 for a small can of Bud made the prices at Rock City look wonderful (and at least most British venues sell at least one good beer). We were told that the support band were the Au Pairs, which seemed unlikely, but put me in a good mood (I never did see the APs – had they reformed?) until a support band of unspeakable awfulness appeared at ten past.
Interesting to see how people crowded down the front before the HS came onstage. A lot of people ignored their seating and moved forward, but we stayed where we were, middle by the mixing board, assured of good sound and a fine view. Had it been Nottingham, I'd've been down at the front with the gang half my age, but it was interesting to see Craig interact with an audience rather more emotive than the ones on their last full UK tour, which I saw twice.
The set was superbly structured, beginning with 'Sweet Part of the City' (opener of the new album, which ends with the line 'let me sing for you') then they banged straight into 'Stuck Between Stations', the song that turned me onto them. The set spanned their whole career, but concentrated on songs from the new album and the best one,  'Boys And Girls In America' (no 'First Night'. but you can't have everything), climaxing with 'Slapped Actress' from 'Stay Positive', the title track of which was the final encore. About half of the show was brilliant and the other half was absorbing, my only problem with the recent songs being that they don't have the classic hooks found on the third and fourth albums.
If you've not heard THS you really should check them out – my first impression of their music was Graham Parker fronting the Attractions moonlighting as a Sprinsteen tribute band. Someone described their style to me as 'mythic' but it's more modern than that, with songs about drugs, the partying, getting older and still wanting to do the stuff you did when you were young, like go to gigs. I can relate to that. And Craig Finn is a fantastic, theatrical front man, acting out every song like Lenny Bruce on modafinil. He's also a bit pudgy, a big geeky, and a damn good singer.
Here's my favourite track from 'Heaven is Whenever' (do you call it a title track when it includes the title line?) which, sadly, they didn't play. Too slow? It doesn't give you a sense of how infectious their rock songs can be but it does give you a feel for the songwriting and subject matter. And to give you a taste of their more anthemic style, I'm also putting up the title track of 'Boys And Girls In America', their best album. Enjoy.
The Hold Steady – We Can Get Together