Saturday Night & Sunday Morning: Alan Sillitoe Day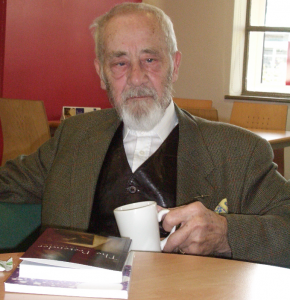 The full programme for next Saturday's Celebration of Alan Sillitoe is now online and there are still places available for the event, which will be in Nottingham's Council House. Speakers include Alan's son, David, novelists Gwen Grant, John Harvey and D.J.Taylor, plus readings from Alan's poetry. It's an interesting, varied schedule and I look forward to attending.
I first met Alan when I persuaded him to write a short story for an anthology I edited called City Of Crime in the 90's. I met him a couple of times that year and he was always friendly and supportive to me after that. The last time we met was when he came to speak to my MA group at Nottingham Trent University last year (the photo above was taken just before the fine talk that he gave). We exchanged novels and he later wrote me a lovely note about The Pretender, which means a great deal to me.
Afterwards, I took him out to dinner at the Larwood and Voce by Trent Bridge cricket ground, where we talked about the writing life. If anybody had told me, 25 years ago, (when I was teaching his short stories to my lower band fifths at Rushcliffe Comp and living in the Radford streets that he wrote about) that I would have an evening like that, I would have been astounded and delighted. The writing life is an uneven, precarious one. The thing that Alan was proudest of, I think, was that he had always managed to make his living as a writer. He was most fond of his poems, which made him the least money. Myself, I would argue that his short stories are his best, and most influential work. Along, of course, with his debut novel. As a tribute to that, here are two songs of the week. The first is especially apt, as it's by Kevin Ayers, who like Alan, spent a lot of time on Majorca in his younger days (both feature in Tomas Graves' memoir of the island, especially Deya, Tuning Up At Dawn). The other – well, if you don't know this classic already, you're in for a real treat.
Kevin Ayers – Saturday night (in Deya)