Beeston International Poetry Festival News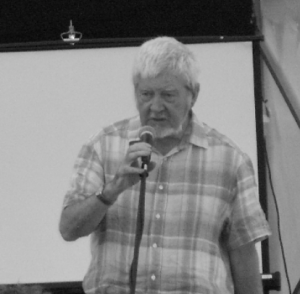 Sue and I helped John Lucas (pictured above) to organise the first Beeston International Poetry Festival, which finished last night with a terrific, packed reading by Matthew Welton and Roy Fisher. John also runs Shoestring Press and the Flying Goose Poetry Reading series. I've set up a public ( you don't have to join facebook) facebook group, which currently has 92 members and features photos and single poem videos from most of the readings (two from Roy!), forming a permanent archive. There are currently 18 videos on there,  each taken with a hand held Flip video camera.
Many thanks to all of the poets who performed and everybody who came. I'm sure you'll agree that it was a very enjoyable, unique series of readings. I should also point out that it was the first and last Beeston International Poetry Festival, so please don't contact me or John about appearing at or visiting future festivals. There is, however, one final series of Flying Goose Shoestring Press readings, each at 7.30 on the third Tuesday of the month, for the next five months. Schedule below. The Flying Goose now serves as a restaurant from 5.30 to 10 every evening, Tuesday to Saturday (except the third Thursday of the next five months!) where Roya provides excellent vegetarian food, which we sampled before two of the festival readings. Thanks to Hilary, the owner, for continuing to host the reading series.
November 16th: Douglas Houston and Tim Liardet
December 14th: Alexander Hutchinson
January 18th: Sue Dymoke and Lawrence Sail
February 15th: David Belbin and Thomas Legendre
March 15th: Anne Atkinson and Alan Baker