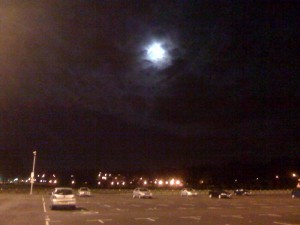 Nearly a month away from blogging and there are load of things I'd like to write about. John Lucas's poetry festival, of course, which was a great success, full of magical moments. The Nottingham opening of the British Art Show. The Hockley Hustle. A great gig by Lloyd Cole on Friday night. The terrific movie we went to see last night, The Kids Are All Right. But I'm on research leave from my university job and have three months to write the first draft of my next novel for adults, so I'm not going to indulge myself by blogging when I could be writing fiction. It'll be mostly music on Sundays from now on.
Yesterday turned out to be Elton John and Leon Russell day. When we got in from a meal with friends, there were Elton and Leon on the BBC2 Electric Proms, followed by an hour of clips, reminding me why I used to love him in the first half of the 70's and why I went off him afterwards. It's more than thirty years since he made a great album and, recently, when somebody as great as Aimee Mann says what an influence he was on her, she tends to be sneered at. But I'm with Stupid, for The Union, Elton's collaboration with Leon Russell, is nearly up there with his best work.
After the clipfest, when Sue had gone to bed, I watched the last episode of the latest series of Californication, a guilty pleasure. And the climactic moments were played out to a soundtrack of the song that first got me into Elton, Rocket Man. I bought the album it was on, Honky Chateau, on a family holiday in Jersey in 1972. The second Elton album I bought was 1970's  Tumbleweed Connection, the lyrcis of which (by Bernie Taupin) have a western theme. Musically, I couldn't miss the connection it had with the work of Leon Russell, who had blown me away the previous year when I saw him play a set on OGWT predecessor Disco 2. The frankly fantastic Claudia Linnear was on backing vocals, in hot pants, a sight the memory of which still… no, I'd better not go there – legend has it she was the inspiration behind the Stones' Brown Sugar. I digress. The first Elton song I heard was, of course, Your Song, though I didn't know then what seems obvious now, that that song is a kind of tribute to Leon's earlier classic A Song For You. Just over a year ago, I was meant to be seeing Elton at Sheffield Arena and Leon at the tiny but legendary Sheffield venue The Boardwalk, a sign of how their reputations had diverged. But Elton got swine flu and Leon had brain surgery, from which he has now recovered.
To make up for the two missing weeks, here are three songs. The first is my favourite Leon Russell song, Stranger In A Strange Land, a fantastic, mysterious, funky anthem. Then there's the title track of my favourite Elton album Madman Across The Water. Finally, a song from the new album, which I urge you to check out.
The photo above? Last Saturday, we drove to the Park and Ride at the Forest and, after the first of what are bound to be many visits to Christian Marclay's fascinating The Clock at Nottingham's New Art Exchange, we left the car and caught the tram to Contemporary for The Hockley Hustle literature event. When we returned, four hours later, there was a fantastic moon, and Sue snatched a photo of it on her iPhone. Another magical moment.
Leon Russell – Stranger In A Strange Land (1971)
Elton John – Madman Across The Water