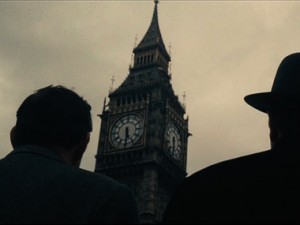 As part of the British Art Show in Nottingham, Christian Marclay's masterpiece The Clock is showing at the New Art Exchange. This Hyson Green Gallery is right by the Forest Park And Ride, so it's easy to pop in for a few minutes while going somewhere else, pick up my partner on the way back from work or, as we increasingly do, just go for an extended visit whenever we feel like it. Yesterday was our anniversary. We've been together for 27 years. So what better way to spend it than at a movie that celebrates both cinema and time itself? We first dropped in to take a look the day after it opened. When we sat down, we knew nothing about the film. After a few minutes I nudged Sue and said, 'hey, that's the time it is now!'. A couple of minutes later, we realized that the montage was moving forward in real time. A delicious, unrepeatable surprise.
Yesterday was my sixth visit and Sue's seventh. She went to the White Cube Gallery on Wednesday and watched three quarters of an hour (much less intimate than Nottingham, she reports, with queues for the 150 or so seats. It finished there yesterday.). So I arrived thirty minutes before her and we stayed until 1.25, which was the last point we arrived at. In our kitchen there are two clock shaped wall charts where we've filled in the times we've been in different coloured pencil. It's tricky though, as the gallery is only open from ten until seven (five on Saturdays and closed on Sundays, or I'd be there later today). There's one all night showing but I'm not going to tell you when it is, as there are only two sofas, and the place is bound to be rammed.
What makes The Clock so great? It's an amazing feat of editing and enthusiasm for film. It takes clips from 3-5,000 movies which refer, not just to time, but to the very time that you are watching the film. In doing so, it creates innumerable resonances and connections that will affect every viewer differently. You think about time, yes, but you also think about where you were and who you were and who you were with when you first saw these films. You watch actors age, grow young again and appear juxtaposed with other actors from a different culture or generation. It's the greatest celebration of cinema that I've ever seen and is utterly addictive. We'll be back again and again, until January 9th.
To celebrate The Clock, and our anniversary, here are two songs of the week.
Culture Club – Time (Clock Of The Heart)