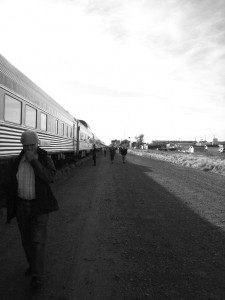 For the rest of the year, I'll be devoting this blog to the sleeve notes to our best of year compilation, now in its 22nd year with, for the first time, downloads of the songs featured (unless copyright holders object, these tracks are presented for promotional purposes and will be removed if yada yada). So, on with the show. This year's cover photo is taken from a brief unscheduled stop made by the massive train The Canadian, on which we took a wonderful four day journey from Toronto to Vancouver back in August, passing through The Prairies that you see in the background.
1. Robyn – Dancing On My Own The pop highlight of the year, without a shadow of a doubt, has been Robyn's three Body Talk CDs. Parts one and two are described as EPs, but each are over thirty minutes, while part three is a best of parts one and two with more songs added. This, my favourite number (though others come come close) features on the new CD but this version is from the first EP. It's slightly sparser than the new one and all the better for it in my view. Until a couple of years ago, I did a best singles list as well as an albums one, but I couldn't even tell you if this was a physical single, never mind it it was a hit. But it feels like a massive number one. A day after posting this, I'm pleased to find that my favourite MP3 blog starts its top 100 (all there for download) with the same song and that the Guardian (on Dec 21) made it their song of the year.
2. Goldfrapp – Rocket Goldfrapp are one of those groups who do a distinct style change with every album and with Head First they seem to have gone for a pure, sumptuous pop mode. It's a short, bright album whose lyrical content may have something to do with Alison Goldfrapp's switching sides when it comes to sexual preference. Knowledge of which gives the lyrics to this breathless number added significance, shall we say…
3. Drive By Truckers – The Fourth Night Of My Drinking I came late to the Drive By Truckers, only picking up their classic, Southern Rock Opera, after taking a risk on their last album Brighter Than Creation's Dark when I was in New York a couple of years ago. New album The Big To Do is, I think, a lot stronger, and this is the stand out track.  A hard rocker, like most of the songs on the album, with Paterson Hood's plaintive, Neil Youngish voice over compelling riffs, it tells  a convincing tale of alcoholic dissolution. My friend James and I drove to Birmingham to see them play a sell out show a few weeks ago, and they didn't disappoint.
The Fourth Night of My Drinking – Drive By Truckers
4. The Arcade Fire – Ready To Start I hear that the Arcade Fire start their shows with this number, and I was tempted to start the CD with it. I say 'hear' because the weather conditions meant my mate Mike and I had to waste our tickets to see the band at the NEC last week – a show that, on the basis of their previous two tours, I had very high expectations of indeed. The Suburbs is a fine album, one that holds together much better, muscially and thematically, than their sophomore LP, Neon Bible. This song plays with cliches, misquotes Dylan and rocks out like vintage Springsteen. You can also hear a rather wonderful Calexico cover of it here.
Ready To Start – The Arcade Fire
5. Gorillaz – On Melancholy Hill Blur got back together this year, and recorded a new song, which is pretty good (hear it here). I was thinking of including that, partly in honour of the brilliant reunion gig I saw at last year's Glastonbury festival. Or I was going to put on 'Stylo', the excellent track on the new Gorillaz album featuring one of my all time favourite soul singers, Bobby Womack. But then this song crept up on me. It's so plaintive, and haunting, and damned catchy.
6. Teenage Fanclub – Dark Clouds I was discussing this with Mike Atkinson at the fine Scissors Sisters gig the other night (no room for them on the CD, sorry. You can read Mike's top tracks and albums of the year over at The Guardian now). He was saying that he liked the new TFC album but had trouble listening to it all the way through. And it's true that, despite having four songwriters in the band, and thus only getting three songs each per album, TFC's albums from Songs From Northern Britain on can feel a bit samey. Yet they're still my favourite British band. If Shadows were a first album by, say, Stornoway, it would be winning end of year polls. It's full of gorgous stuff and decidedly stronger than its predecessor, Manmade. When you dip in  to listen to a handful of songs, each sounds wonderful. Just like this one.
7. Band Of Horses – Compliments While Infinite Arms doesn't quite hit the ethereal heights of its predecessor, the fantastic Cease To Begin, it's full of catchy, taut slices of Americana. Like the TFC album, The DBTs and Tindersticks' CDs, this was inexplicably absent from most end of year polls. Criminal. I defy you to play this song twice and not be earworming it within 24 hours.
8. Richard Thompson – Stumble On A friend was complaining the other day that Richard Thompson made so many albums he was impossible to keep up with. I sympathised with him, then confessed that I had every single one of them. Dream Attic, the latest, is another good one, recorded live, with a strong band. It's my younger brother's favourite album of the year and many of the songs have been steadily growing on me. I particularly love this breathtaking song. It's an exquisite ballad, but what really makes it are the two guitar solos towards the end. Never mind he's one of the best living singer/songwriters, Richard is probably the greatest living guitarist, too. Looking forward to see him again in January.
9. Tracey Thorn – Singles Bar I wrote about the return of Tracey back in the summer so there's not much to add, except that I still prefer the demo version of this fine song and she has an enjoyable Twitter feed. The first of two songs that have already appeared on this blog.
Tracey Thorn – Singles Bar (Berlin Demo)
10. Rumer – Aretha I wrote about Rumer below too, so don't have much to add, except to send out good wishes to the cancer-stricken Aretha Franklin, subject of this song. I've downloaded a bunch of fine Rumer cover versions recently, including a lovely Burt Bacharach Christmas EP. That said, I hope she doesn't slip too easily into concentrating on MOR standards for the Radio 2 set. Her own songwriting is very promising indeed, as this number shows.
11. Lloyd Cole – Writers Retreat The last song which has already featured on this blog, when I wrote about it here. Great to see Lloyd back on form (his small ensemble live show was great, by the way) and my reasons for selecting this track are pretty obvious.
12. The National – Conversation 16 Since singles barely exist these days, some friends replace best single lists with a songs of the year list. Fair enough. If I had a song of the year, this would be it. I first turned on to The National when I heard the song Fake Empire on an Uncut sampler & bought their last album, Boxer, which, at first, I found underwhelming. Then I got its classic predecessor Alligator and saw them live at a packed Rescue Rooms shortly afterwards and it all made stunning sense. The 2010 show I saw at Warwick Arts Centre on Thanksgiving, the night the big freeze began, was longer, less intense, funny at times, almost celebratory. This is a band who have just made their best album (arguably – hard to pick between the wonderful High Violet and Alligator). Matt Berringer  introduced this song as seeming to be about cannibalism but actually being about marriage. And I thought, of course it is, though with lines like I was afraid I'd eat your brains, cos I I I I'm evil this interpretation isn't the immediate one. The National are a unique band, who started out wanting to be the new Tindersticks but, over more than a decade have become probably the best rock band in the world, with great tunes, anthemic rhythms, subtle lyrics and a cool attitude. U2 or the Kings of Leon, both of whom I saw when they were starting out and still naive, will always have a bigger audience, but The National (like REM, whose career theirs resembles) will always have a more devoted one. There speaks a fan.
Conversation 16 – The National
13. Cee Lo Green – Fuck You Three songs today, as I won't post again until after Boxing Day, and the first two are number ones. I have a weakness for songs with the word 'fuck' in them, so I'm currently enjoying John Grant's Queen Of Denmark, which would have featured on this CD had I got it earlier in the year. This songs needs no introduction. Regular listeners may recognise the great voice from Gnarls Barkley's Crazy.
14. Katy Perry – California Gurls From classic soul to classy pop. Perry and her writers have clearly been listening to Robyn and while Teenage Dream isn't in the same league as Body Talk it's still pretty great, and this song is incredibly catchy.
15. Afrocubismo – Djelimady Rumba The band the Buena Vista Social Club nearly were, and our favourite World music album of the year (the other two were the Ali Farka Toure/Toumani Diabate & Ballaké Sissoko's Chamber Music) this is rather wonderful, reminding me of the christmas that we spent in Cuba. They're playing the Royal Albert Hall in June.
16. Vampire Weekend – Horchata I first included a song from VW on our CD three years ago before their fist album was out, so this makes a remarkable three appearances in four years. VW get over that difficult second album syndrome by making an album that's as full of great, sophisticated pop songs as their first. This one's about a kind of hot chocolate. I love really good hot chocolate.
17. Spoon – Mystery Zone One of my favourite groups, who I saw play a superb show at Leeds Cockpit this year. Oddly, they didn't play this mesmerising track from Transference. Spoon get better with every album and seem to be finally cracking through to a big audience in the States. Here, their tour consisted of two shows. Love the ending of this one.
18. Steve Mason – Boys Outside Formerly of the Beta Band, Mason has made a haunting first solo album that often deals with bleak themes, to do with solitude, depression and lost love. Yet it's a beautiful, haunting record, one of the year's best. A tough choice, but in the end I went for the title track.
19. Kanye West featuring Bon Iver – Lost In The World Hard to assess the full impact of the new Kanye cd at first, because the tracks were leaked week by week. The album opener is amazing. Somewhere after the middle it loses focus then comes back really strong at the end, concluding (nearly) with this, which has the added bonus of featuring my favourite Bon Iver and (a man who also put out a great cd this year), Gil Scott Heron. I was blown away when I first heard it, and I still am. It takes a great original track ('The Woods' from the Blood Bank EP and takes it even further). For all his occasional silliness, Kanye makes amazing, ambitious and often uplifting music.
Lost In the World – Kanye West
20. MGMT – Congratulations All credit to MGMT, who could have put out an album that consolidated the huge, unexpected success of their first but instead recorded a weird, eccentric, always enjoyable CD. This is the most conventional track, a hazy ballad that seemed to belong on the end of our CD. And if you've read this far, congratulations yourself. Have a great new year's eve and an interesting 2011.