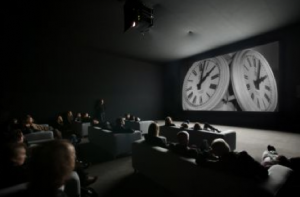 Christian Marclay's 'The Clock' shows on weekdays from 10a.m. until 7p.m. (Saturdays, 10-5, closed Sundays) at Nottingham New Art Exchange as part of the British Art Show (the image above is from the White Cube showing, which has now finished, Nottingham was much less formal – two benches, two sofas and, last night only, six bean bags). Yesterday and today saw the only 24 hour showing of this masterpiece of installation art. Sue and I had already seen most of the hours between 10 and 7.30, so we had to take in as much as we could. We got there at 8.40p.m. and, to my surprise, the place wasn't full. There were 21 people in a space that holds forty or fifty. As we arrived, so did playwright Stephen Lowe. Shortly after we'd settled in bean bags at the front, novelist Jon McGregor showed up, followed closely by poet Matthew Welton. Great to see so many people we knew at the event. After half an hour, I was able to shift to a prime viewing spot on a  sofa and found that the other half of it was occupied by a Nottingham artist we know slightly. After midnight, an old friend slid into the place next to me. When I gave up my place, an hour later, it was to her husband, who's been a close friend for thirty years. Sorry if this sounds ridiculously cosy, but it was great.
By eleven, the place was absolutely packed, and the first two and a half hours of viewing flew by. People were crammed into every point of the gallery, many of them prone, using coats for pillows (and yes, usually one or two were asleep), watching the show with rapt attention. I've written below about what makes the piece so wonderful, but a few observations about the clips from the evening. For some reason, all but the last James Bond section was from the Roger Moore years. And what was that Rex Harrison film with all the philosophical comments about time? Great to see a well used extract from 'Once Upon A Time In America', one of my all time top five. Ditto the brilliant use of Wells' 'The Stranger' in the stunning midnight sequence. After that, there was a lot of Vincent Price in Hammer horrors, plus rather more sex and nudity than earlier in the day. But it was the brief glimpses of films one half remembered that particularly intrigued, often films you'd never get the chance to see on the big screen. The material is so well chosen that, the majority of the time, you feel you could happily watch the entire movie it came from. 'The Clock' is the greatest love letter to cinema I find it possible to concieve.
Like many people, we lasted until just after one. I met another friend on the way out, making his second visit of the evening. Earlier, he'd had to queue to get in. We hadn't had enough, so, as soon as we got up today, we headed back there, on just six hours sleep, and caught the section from five to nine until five past ten. I'm not much good at watching films in the morning, but it was still pretty cool and, of course, since the time on screen matched the time in real life, entirely apposite material for having got up early. And, while nobody stayed for the whole 24 hour marathon, it was good to chat to other enthusiasts over a coffee afterwards. 'The Clock' runs until January 9th and if you love movies and are withing striking distance of Nottingam, you'd be a fool to miss it.
Coming very soon, my annual sleevenotes to the best of the year's music on CD, this year with added downloads.