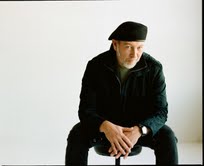 This is an extended version of the interview that appears in today's Nottingham Post. You can read the shorter version here.
Richard Thompson is in Manchester, about to embark on three days of band rehearsals for his new tour, which comes to Nottingham next Thursday. He doesn't like rehearsals generally, but this time should be more straightforward than usual. For his new album Dream Attic was recorded on the road, in the USA last year (quote about advantages/disadvantages).
'People often come up to me after shows and say the studio versions are great but we prefer the live versions of songs. So this one's looser. There's the odd mistake on there. I hadn't realised that it would involve so much work for the band. In the studio you can focus on one song at a time, do retakes, overdubs, fix stuff pretty much anywhere you want to. When you're doing it live you pretty much have to learn 75 minutes of music then play it flawlessly. We chose the best versions from eight nights. We didn't want to do a lot of tweaking with the finished results, so there are mistakes, some tuning issues, but the upside is that you get the energy from the audience.'
Another upside is that he's touring with the same band, so the rehearsals can be cut down from three days to two. 'I hate rehearsals. The process is usually as short as possible.' He chooses which old songs to play in advance but 'often I'm wrong and we swap songs around as the tour continues. You think you know the pace of the show but sometimes you need a bit more energy and sometimes you need something that's slower and more reflective.'
Thompson has a thorough approach to gigging, keeping a card index ('haven't got this computerised yet') where he notes every song played at every show, including all of his visits to Nottingham. 'If I've played twenty shows over thirty years in a town, it's nice to know exactly what I've played so that I can tweak the set to suit the audience. Especially in acoustic shows.' His most memorable Nottingham visits were the two acoustic shows he did at the Old Vic in the 1980's. 'That was always fun.' I write these set lists and it's a bit of a fantasy really, a security blanket. I get to the third number and throw them out of the window, and play what I feel like or the audience start shouting requests and I do requests. But at least I have a plan, even if I don't stick to it.'
Does he have trouble remembering all the songs from his vast repertoire.
'It is hard, without resorting to autocues and that kind of thing. Sometimes I have to admit defeat and say I can't remember a particular song. But if I've written four or five hundred songs, the audience is only going to request from 250 of those and more likely from 150. So I can just about know 150 songs.
How does he feel his songs have changed over the years.
'They've evolved some. I think I'm a better songwriter than I used to be. I've explored more areas and I've got to some stranger places. Your songs have to be accessible to an audience but, having said that, it's rewarding to write a song where you think no-one's been in this area before. It's a different chord sequence or a different kind of topic. But it's hard for me to say how I've evolved. I'm not sure I have perspective on what I do in that way.'
I tell him I've just been listening to his son Teddy's new album, 'Bella'.
'Great singer, great writer, great musician. New album's probably his strongest album and it's good to see him getting some success. Fantastic.'
I mention seeing his daughter Kami support Tim Robbins in Nottingham last year and ask whether there are any more Thompson family musicians in the pipeline.
'My son, Jack, who's nineteen, is an extremely good bass player. Plays with various bands. My grandson, Zack, is seventeen. He's an excellent singer and guitar player.'
We discuss the relatively few covers of his work. He's pleased that he's had a few country hits and enjoys covers of his work on the UK folk scene, but his favourite cover is of early song 'The Great Valerio', as covered by Swan Arcade, a three piece, unaccompanied group. His favourite of all of his albums is 'Mock Tudor'. 'It got very close to my intentions. On that album, we got lucky and a lot of things worked really well in the studio.' He feels that his most under-rated album is one he made with Phil Pickett and the guys from Fairport, 'The Bones Of All Man', a synthesis of early music and rock music. 'I think that's just a fantastic record, really exciting and original.
I congratulate him on being awarded an OBE. Was it a surprise?
'Totally. A shock.' Was it odd, getting it from a Tory government? 'It's not a political thing. I think this comes from a different kind of committee and had nothing to do with government. It's recommendations from the community.' He hasn't voted in the UK for a while. 'I live away and it would feel hypocritical to do so. But I used to vote Labour, and I would today.'
Since leaving Fairport in 1969, he has not been tempted to join another band, apart from helping out with friends like the late Sandy Denny and Fairport reunions. But is it true that he was asked to join The Eagles?
'Apparently, yes. A request came through management.'
And you turned it down.
(Exasperated American teen voice). 'Well yeah.' (Back to normal, sardonic voice). 'Who wants to be really rich and famous?'
Is there any band after Fairport that you might have been tempted to join?
'There were a lot of things that I could have done that would have seemed more like a job, something to pay the rent while I was doing other things. But I've always wanted to pursue my own musical direction and I've always been able to just about earn a living doing that.' He worked on tours with Sandy Denny and Iain Matthews but 'to be in a more serious band would have been a distraction. I'm glad I didn't have to do that.'
Does he still have any ambitions left to fulfil?
'A lot. It's difficult to talk about because it's really about projects that I'm envisioning in the future. It doesn't involve other people, like collaborations with Yehudi Menuhin or something. It's stuff that I'm still figuring out how to do or how to structure. So it's just kind of personal stuff and not stuff I can talk about really.'
I pass on James Windsor's offer for him to play an acoustic warm-up show at The Maze for Cosmic American Music and keep all the door receipts ('I'll bear it in mind') and make a suggestion for an old song I've never heard him do that he might slip into the set next week ('A Heart Needs A Home'), which gets an equally cagey response. Then our time is over. You have to be wary of meeting your heroes, but this was a treat. After listening to his music for thirty-five years, I just spent half an hour talking to Richard Thompson and, though I must have seen him play twenty times, I can't wait to see what his new tour will be like. Here's my favourite track from the new album with another from the album that Richard told me was his favourite, 'Mock Tudor'. This is one of the bitter, dark songs that takes Richard into territory that only writers like Randy Newman cover regularly. There's another cracking Richard song in the post below. On Sunday, I'll be paying tribute to another fine singer/songwriter from Richard's generation, one who's about to turn 70.